Après un joli détour par l'Espagne puis l'Angleterre : ils arrivent en France par la Belgique, "à pas de loups" bien sûr 😉 … Ce sont les KOUTCHOULOUS ! — "kuchulus" en espagnol ou "Thingummies" en anglais ! —
Si vous aimez les détours justement, surtout absurdes, les drôles de zigzags, les sentiers mystérieux, bref, les chemins sinueux en tous genres…
alors n'hésitez pas à suivre les aventures des trois personnages principaux : Kochinette, Bidouche et Dodi.
Ils ont un "petit souci" : ils réalisent soudain qu'il n'y a pas d'histoire pour eux… et qu'ils feraient bien d'en trouver une… déjà, pour distraire celui qui les observe : le lecteur !
Dans cet album, soi-disant sans histoire, les numéros de pages, personnifiés, commentent la quête de nos trois héros, et plein de petits Koutchoulous s'agitent partout en les accompagnant… même l'auteur intervient parfois. Kochinette, Bidouche et Dodi courent dans toutes les directions : trouveront-ils, dans tout ce bazar, le récit de leur rêve ?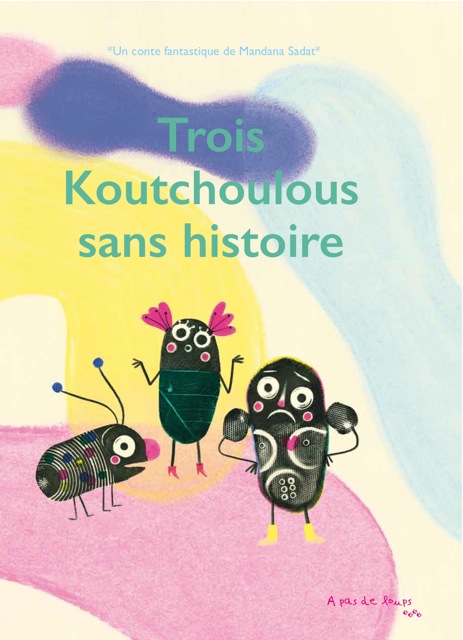 Editions "A pas de loups", Bruxelles (juin 2019)
"Has Anybody Seen a Story" (Thames & Hudson — 2019)
******************************************************************************************
Une affiche pour "Le plus petit festival de jazz du monde" sur le thème du "polar américain". Merci à l'équipe génialissime de la "médiathèque Marguerite Yourcenar" de Rosny-sous-Bois…
*A poster about "The smallest jazz festival in the world" on the subject: "American thriller books". Thanks to the amazing team of Marguerite Yourcenar Library, in Rosny-sous-Bois.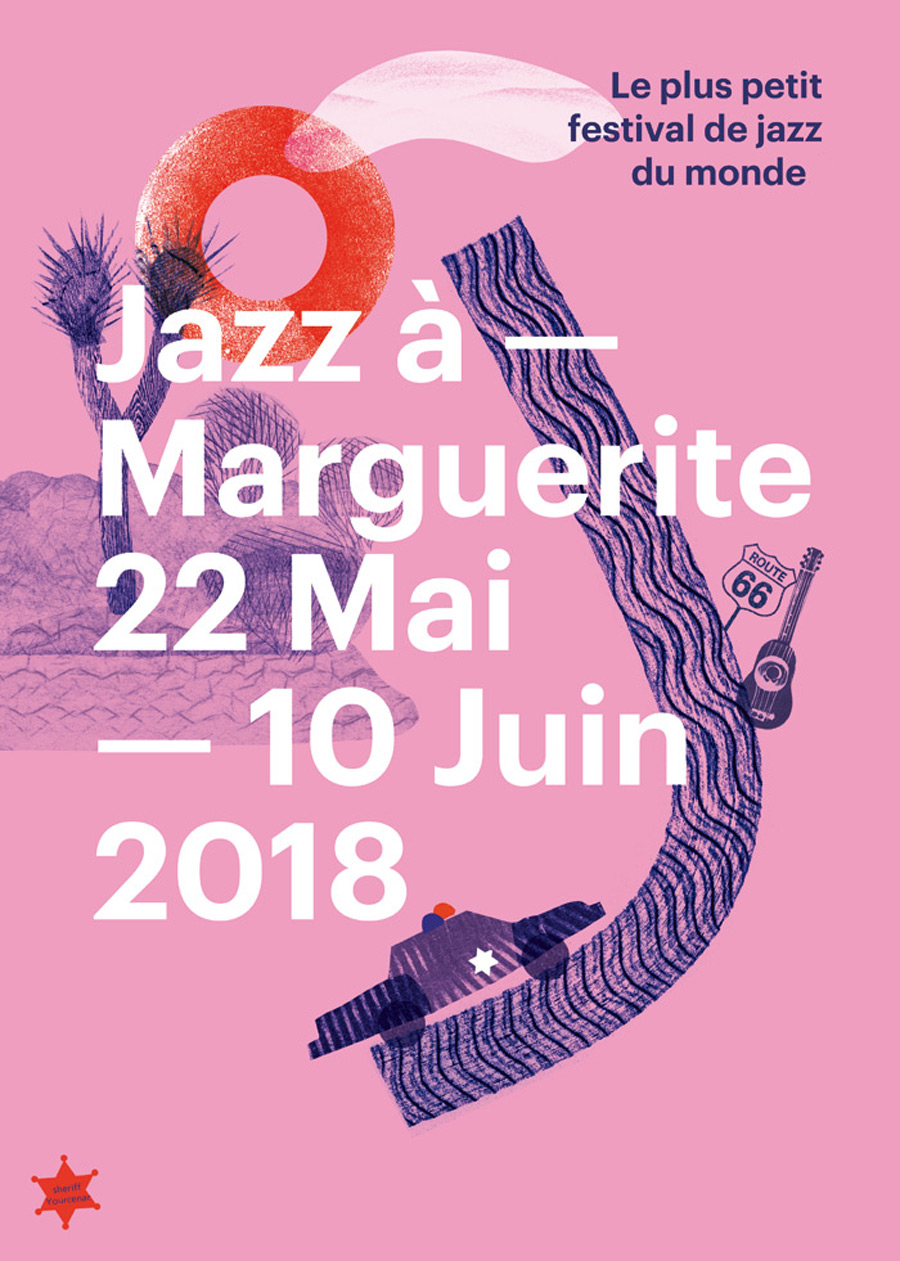 *********************************************
Un livre…et une fabuleuse invitation, cette fois sur le mont Etna, à Zafferana Etnea en Sicile!
Une fête du livre dans ce lieu fascinant, or j'ai justement un volcan à dessiner pour un nouvel album avec Jorge Luján. Voilà un joli « pont » de la vie, comme j'aime…
Sur le volcan : toute une palette de couleurs et de beaux contrastes entre la neige et la pierre de lave…
Les organisateurs et organisatrices, enseignantes, ont été formidables et très dévoués jusqu'à me conduire sur le mont Etna!
De belles rencontres même si parfois un peu trop furtives… Agnese Barruzi et sa petite famille (!), Anselmo Roveda, Bernard Friot, Arianna Papini, Rosaria Punzi de Lapis, Teresa Porcella, Fausta Orecchio et Simone Tonuci de Orecchio acerbo, Armin et Victoria Greder, Barbara Schiaffino directrice de la fameuse revue Andersen et tant d'autres chaleureuses personnes.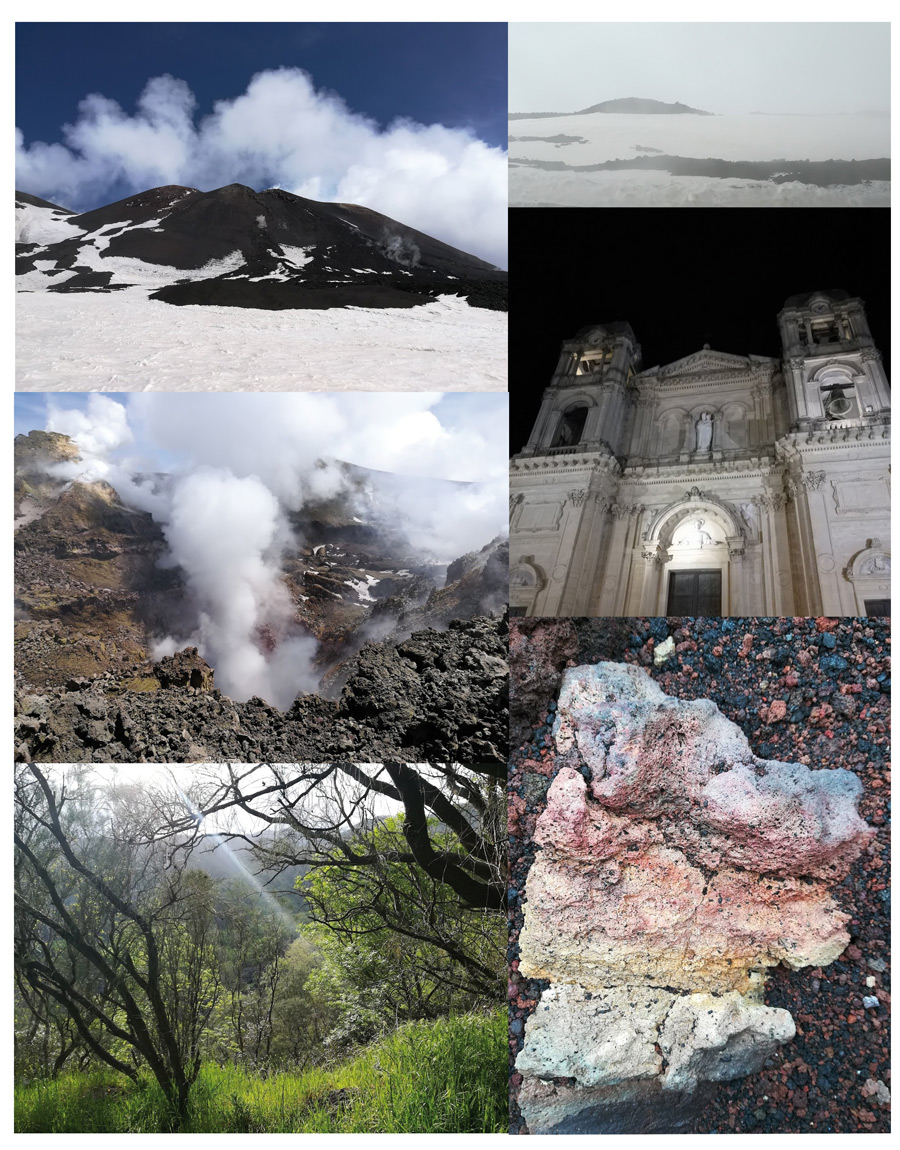 Avril 2018.
*******************************************************
Un accueil enthousiasmant en Vendée pour les Fêtes du livre 2018 de Aizenay et Le Poiré-sur-Vie, en pleine campagne, et à seulement 30 mn de la plage! Des enseignantes, Atsems, parents et bénévoles de l'Amicale laïque super dynamiques, investis et sympathiques! On m'attendait paraît-il "comme le Père-Noël" mais j'étais plutôt "une sorte de magicienne" en ont conclu les enfants… En effet, je leur ai raconté le secret de la "graine à Koutchoulous" où comment naissent les "Koutchoulous" ("Kuchulús" en espagnol) … Un immense Merci à tous!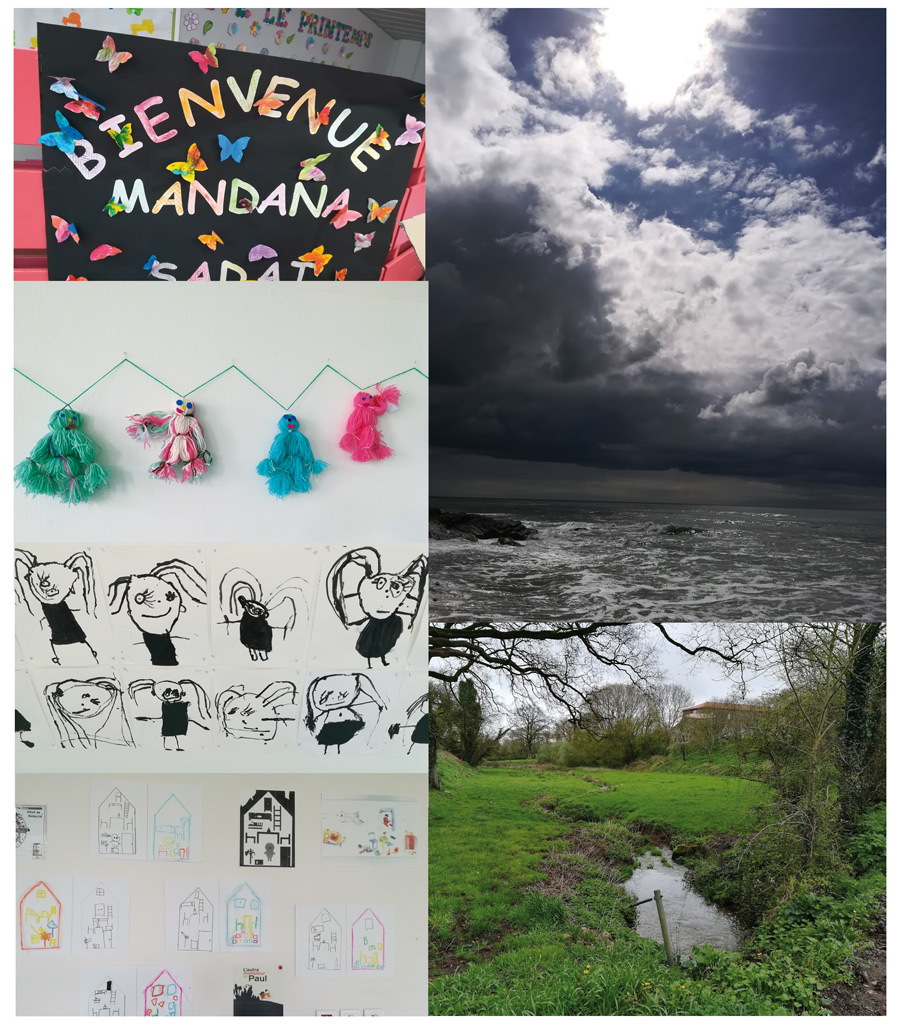 ***************************************************
Parfois les livres mettent très, très très très longtemps, à naître…on se demande souvent si ils vont vraiment réussir à "exister" un jour pour atterrir dans les mains d'un lecteur. Mille et une fois j'ai bien cru que celui-ci ne verrait pas le jour : mais…le voici enfin en Espagne ! Le processus de création, à lui tout seul, possède son histoire complète et pleine de rebondissements… Merci aux éditions KóKINOS ! Merci à ces amis, ci-dessous, qui m'ont soutenue !
Un conte farfelu, un livre foisonnant à l'inverse de mes premiers albums. A lire par petits bouts…il est très long! C'est un "OLNI" m'a dit simplement ma mère. Un "objet littéraire non identifié" ! J'aime imaginer qu'il vous amusera…vous me direz ?
Merci à Esther Rubio, Miguel Ángel Mendo, Emmanuelle Haliday, Fransico Bolaños Santana, Vanessa Hié, Véronique Moriez, Aurore Lecomte, Fanny Nather…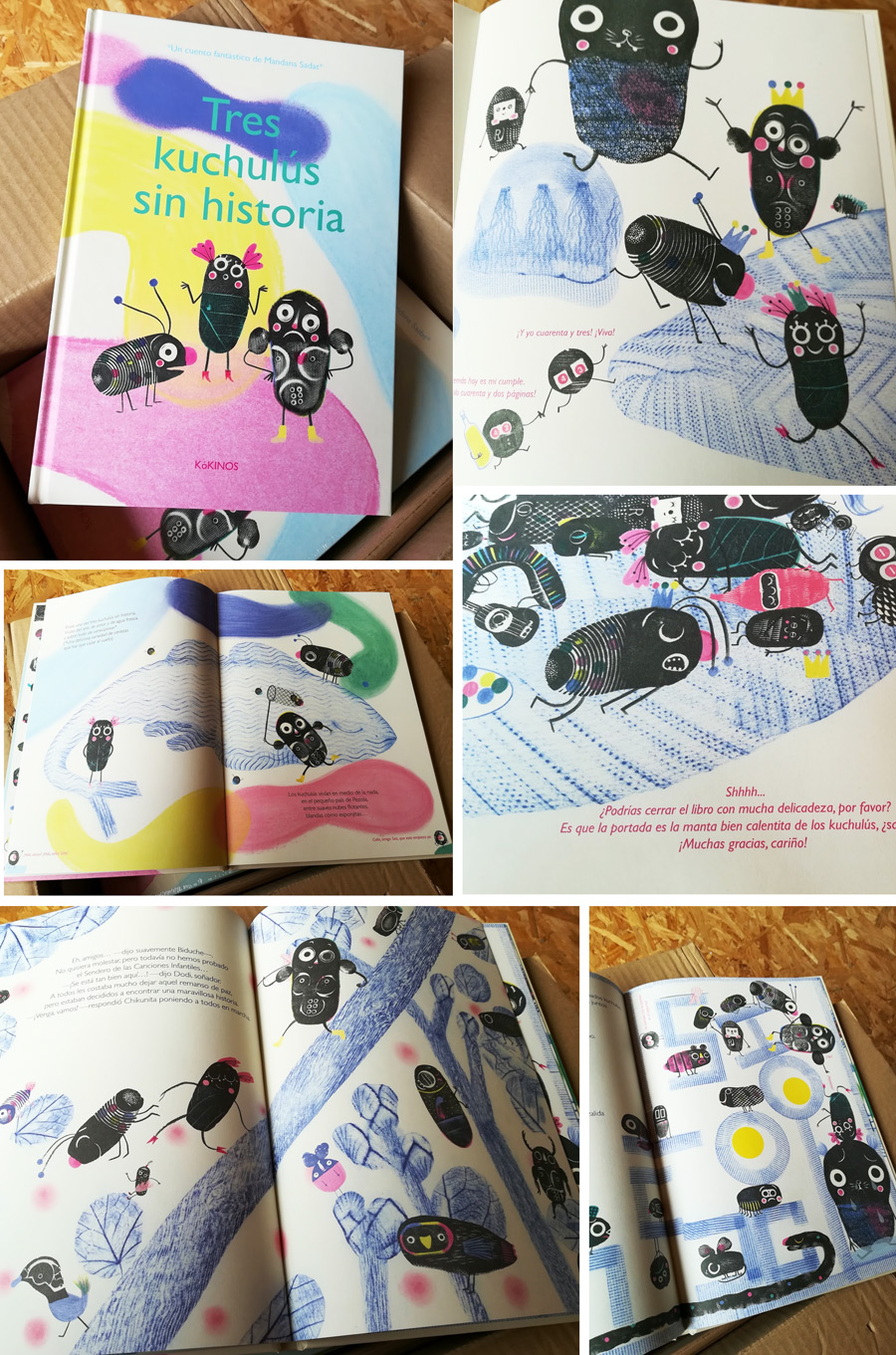 *Sometimes, books are taking a very very VERY LONG TIME to exist! And this one, might never have existed! Why? it is also a looong story! And guess what, the title is "Three Koochooloos without a story". It is a looong and wacky tale that the reader should read little by little…My mother said: it is not an UFO but an ULO, unknown literary object!  
20 mars 2018
************************************************************************
Trois "Koutchoulous" ("Kuchulus" en espagnol) vous souhaitent une Bonne Année!
*Three "THINGUMMIES" wish you a Happy New year!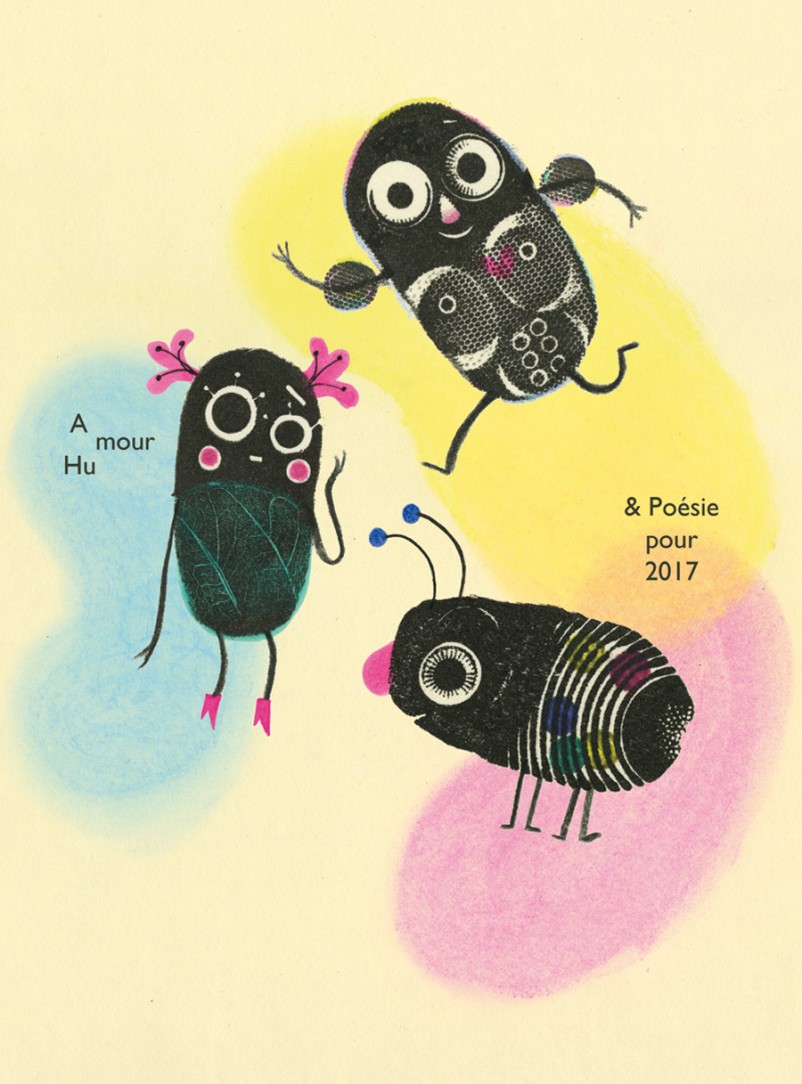 *******************************************************
Une très belle invitation au 6ème festival de littérature pour enfants à Buenos Aires: Filbita petite soeur de Filba.
L'occasion de découvrir l'esprit des Argentins, accueillants, enthousiastes, et ouverts.
J'ai découvert de supers organisateurs aux petits soins, une "librairie/maison d'édition/lieu de vie" très créative appelée "Eterna Cadencia", une ville printanière ornée d'arbres mauves entièrement fleuris, des façades de maisons au design très varié (libre utilisation des couleurs, des motifs, des fresques…), et enfin des invités charmants (cf Filbita's video 2016).
J'ai entre autre animé un atelier sur mesure pour professionnels "El otro": en expérimentant la notion d'intrusion de personnages entre illustrateurs…les participantes ont fait des prouesses en seulement 4h00, avec beaucoup de poésie et d'humour!
J'ai eu la chance, enfin, de rencontrer les merveilleuses personnes de l'association "Del otro lado del árbol" à La Plata (cf. l'article ci-dessous ou ici )…beaucoup d'émotion, un plaisir immense! Un voyage inoubliable…
*An unforgettable trip to Buenos Aires and La Plata, in Argentina! I enjoyed the great organisation of Filbita book's fair and of the french institute, also the great book store but not only because it is also a publishing house, an open meeting place, etc, named "Eterna Cadencia"… all fantastic people and meetings! And in the city of La Plata: deep emotion with the wonderful team of "Del otro lado del árbol" (you can click here too), with Fondo de Cultura Economica…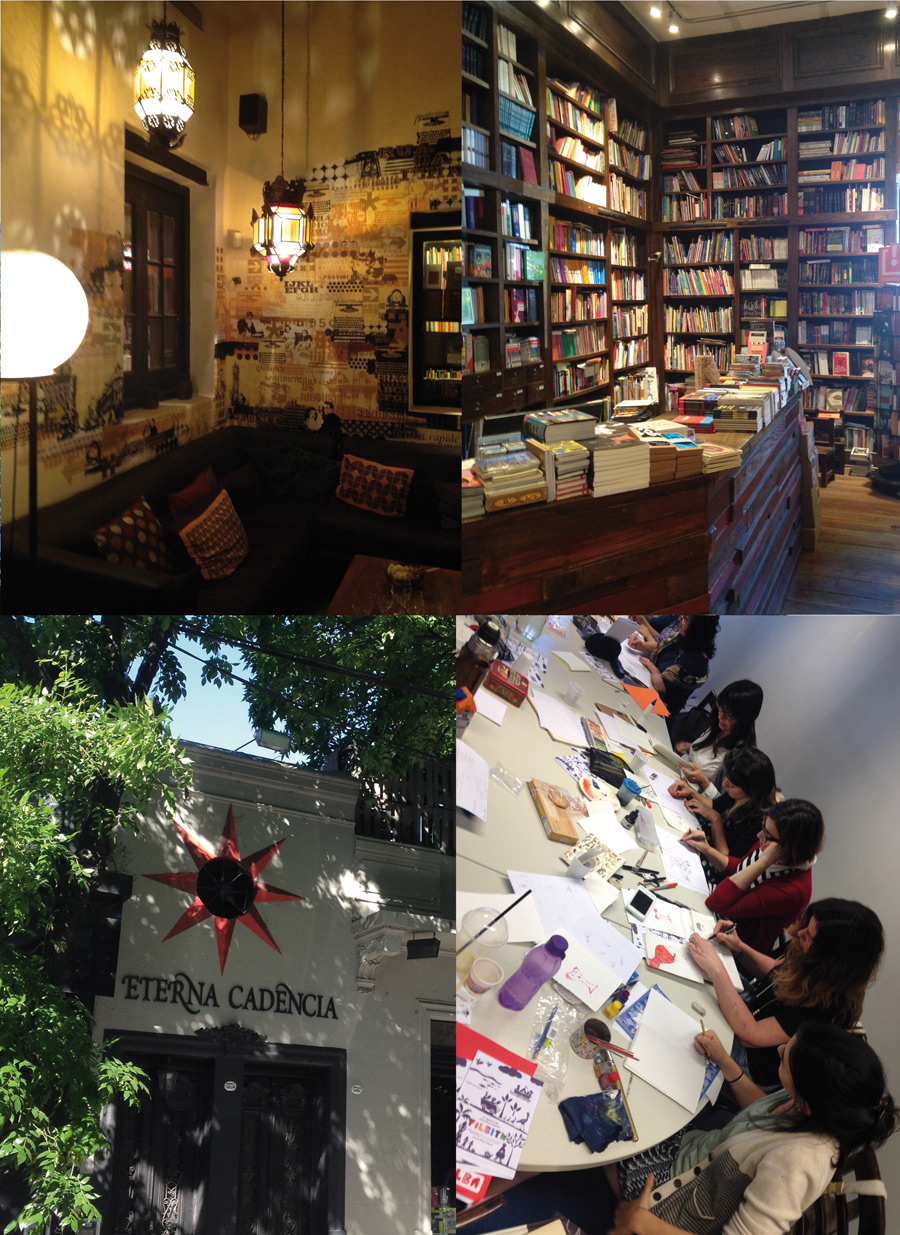 ******************************************************
De l'autre côté de l'arbre…il y a un merveilleux jardin, comme un rempart à toutes les peurs, où règne la magie de l'instant présent.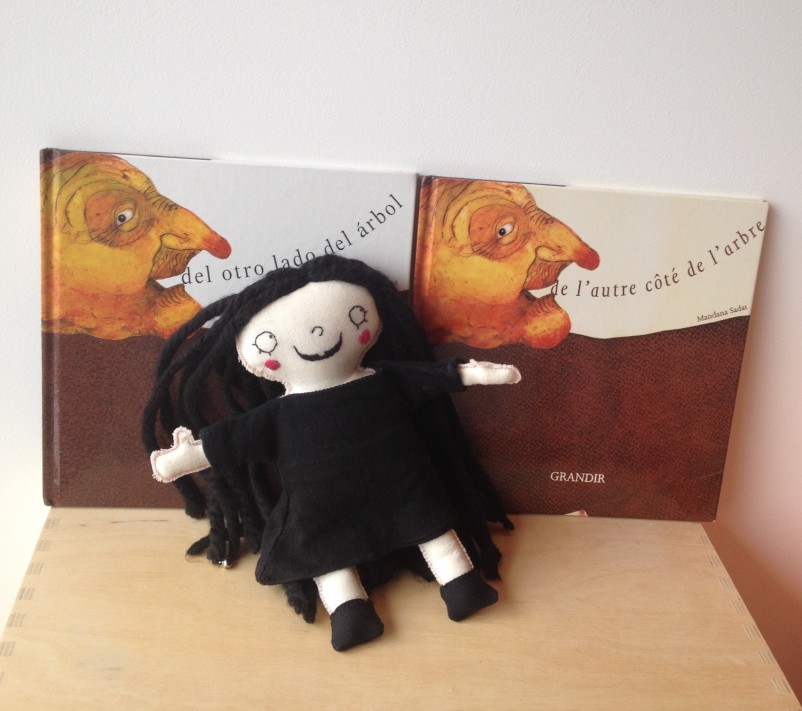 Dans quelques mois, en 2017, cela fera 20 ans que j'aurai réalisé un petit album sans texte: « De l'autre côté de l'arbre ». J'étais alors étudiante en illustration aux Arts décoratifs de Strasbourg (actuelle école HEAR).
C'est un livre qui parle de la peur des apparences, de la frontière, de la limite…
Ce livre est une graine: 19 ans plus tard, il continue de pousser dans divers coins du monde…
Il est temps que je vous raconte l'histoire qui fait tant gonfler mon coeur, cette histoire qui se passe en Argentine et qui me relie pour toujours à une petite fille de 5 ans, Pilar.
Pilar lisait ce livre…et je dirais même l'avait amélioré en lui apportant quelques couleurs, quelques autocollants de princesses pour adoucir la laideur de la « sorcière", quelques petits coeurs dessinés sur les pages, sans doute le présage de ce qui allait régner ensuite…
Son départ de l'autre côté de la vie à cause de la maladie, il y a 5 ans, avait fait pousser alors une féerique bibliothèque pour enfants au coeur d'un merveilleux jardin à La Plata.
L'amour et le courage infini de ses parents, Paula et Vasco, de leur famille, de leurs amis, continue de faire vivre le jardin enchanteur, et pourtant bien réel où l'on peut sentir l'intensité des vibrations dès le premier pas…
Ce samedi 12 novembre 2016, j'ai eu l'immense chance pour la première fois de me rendre dans ce lieu incroyable…j'ai senti que j'entrais dans une bulle de joie, d'amour et de bienveillance…vous voyez, ce genre d'espace qui donne sens à l'absurdité de la vie, qui soigne la violence et l'injustice…un lieu qui me donne envie de croire en l'humain, en sa générosité…un cocon, qui, si j'étais un enfant fragilisé par la maladie, me donnerait envie de me battre…qui, si j'étais la maman ou le papa de cet enfant, me soutiendrait dans ce combat titanesque et sans répit…
Tenir contre mon coeur le livre personnel de «Pili » a été un moment que je n'oublierai jamais…une connection intemporelle avec elle. Et que dire de l'intérieur de la petite bibliothèque: un petit paradis!
De la perte de cette petite princesse fée est pourtant né le royaume de la joie de vivre, du partage, de la créativité, de la magie de l'instant……je l'ai vu et senti, le rempart contre la souffrance, dans cette bibliothèque colorée remplie de contes et d'histoires.
Un jardin plein de symboles, plein de poésie : même les jeux pour enfants créés par le sculpteur Fernando ont la belle empreinte de l'amour pour les enfants…Vasco, embarque en promenade les enfants « De l'autre côté de l'arbre » mais en y ajoutant tant d'autres détails, que l'histoire change à chaque fois devenant la sienne et celle des enfants présents…
J'admire infiniment l'œuvre de tous ces gens qui se sont joints, ou devrais-je dire soudés au projet initial de Paula…il y a maintenant si j'ai bien compris trois bibliothèques, une quatrième en devenir, dans tout le pays pour venir en aide à autant de familles que possible…
Pour couronner le tout, cette association de « Del otro lado del árbol » de La Plata a eu la belle idée d'inviter dans le parc de la bibliothèque le très joli groupe de musique pour enfants « Naranja dulce », des artistes qui m'avaient demandé il y a une dizaines d'années si ils pouvaient écrire une chanson d'après mon livre: cette chanson s'appelle « Canción de la bruja » (Cecilia Allende)… un très beau cadeau de l'écouter en direct dans le parc, en si bonne compagnie!
Cet après-midi du 12 novembre 2016 est pour toujours gravée dans ma vie, dans mon coeur, sans doute mon expérience la plus bouleversante liée à la création d'un livre…!
************************************************************
Un long long silence sur la toile…et voilà, par ordre d'arrivée à mon atelier, l'album de mon dernier projet avec le poète Jorge Luján: chez "Lapis" en Italien bilingue Espagnol (super pour apprécier les nuances du difficile travail de traduction de la poésie!), chez "Capital Intellectual" en Argentine…cher pays d'origine de mon ami poète, et enfin, en avril 2016 chez "Enchanted Lion" à New York: vous m'en voyez absolument enchantée! Grahou…Greuh…puis-je rugir?!
*A long long silence on the net…and here it is, one after the other, it arrived in my studio: the last book I made with the poet Jorge Luján. In Italian bilingual Spanish at "Lapis" (Italy): it is great to see the subtil work of translation. In Spanish (Latin American) at "Capital Intellectual" in Argentina, the precious native country of my dear friend, poet of the book! Also, in April 2016 at "Enchanted lion" in New York, how fantastic! I feel like an enchanted lion myself…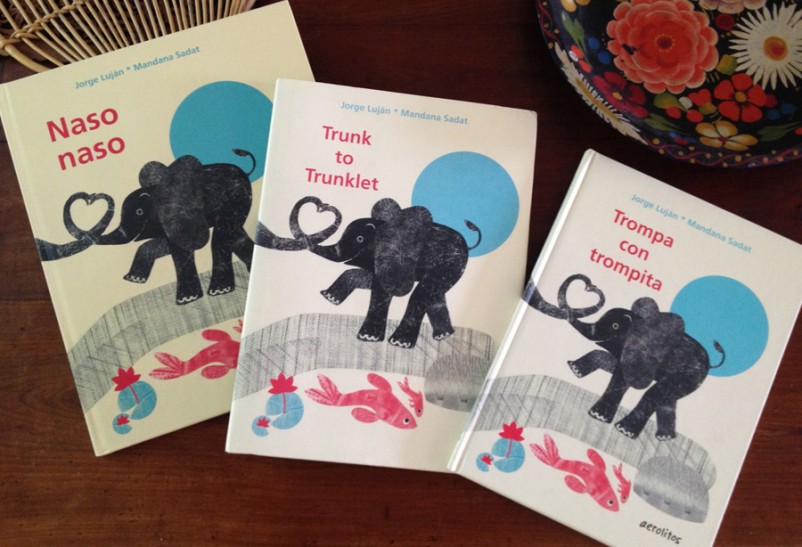 Quelle joie: "Trunk to Trunklet" a été sélectionné pour participer à « The Original Art exhibit » de la "Society of illustrators" (New York)!
France?
Enfin, j'apprécie la petite touche d'interprétation de cette poésie (celle du Kangourou) où le traducteur et poète américain, John Oliver Simon, a fait voyager l'animal jusqu'à… la France! Pourvu que cela décide un éditeur français à publier le livre. (Clin d'oeil cachant un petit coeur tristoune…)
*Wonderful: "Trunk to Trunklet" has been invited to participate at « The Original Art exhibit » of the "Society of illustrators" (New York)!

To France?
I also appreciate a lot the wink of the poet, John Oliver Simon, that adapted the poetry of the kangaroo illustration: the animal travel from Australia to…my country! I hope that it will give finally the idea to a french publisher to publish the book in France…I don't hide that my heart is broken!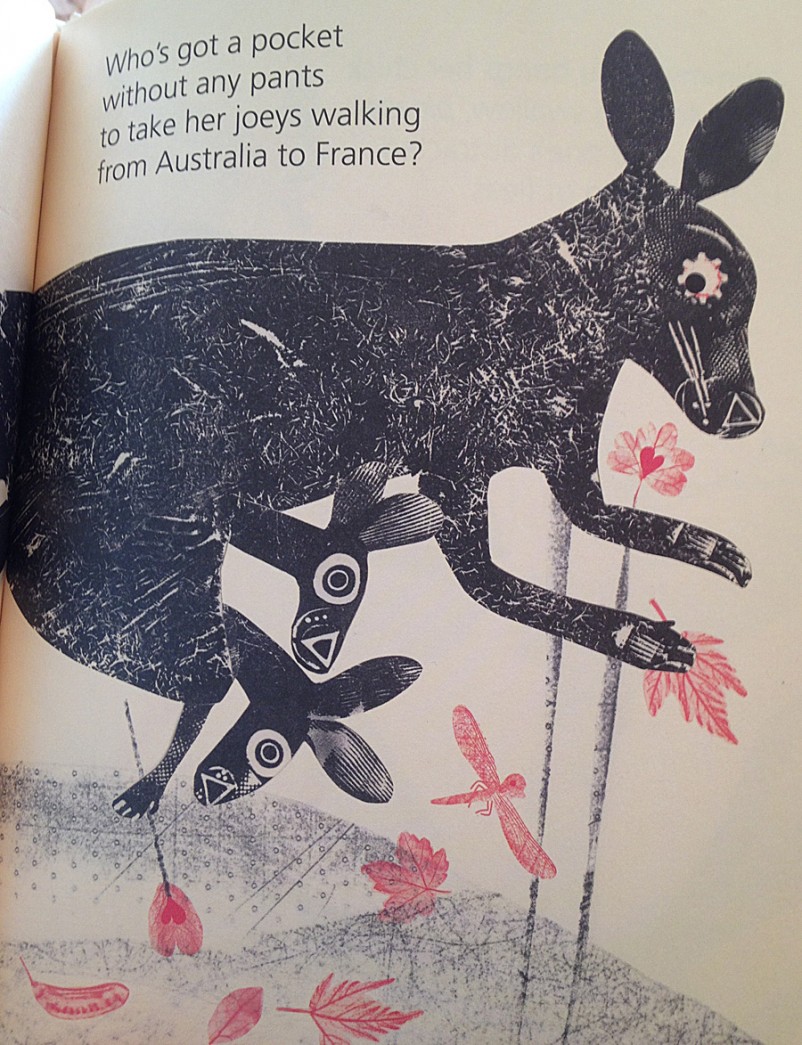 Deux éditions de "Bien avant toi" (auteur Rascal) viennent d'arriver en plus…pour les lecteurs polonais voici un article intéressant et joli de Marta Mikos, le lien: natuli
*Two more publication of "Bien avant toi" (means approximatively "A long time before you (come)") author Rascal, in Poland at Czerwony Konik Wydawnictwo and in Italian at Edition Clichy. Click here natuli for an interesting and nice Polish link about it, by Marta Mikos.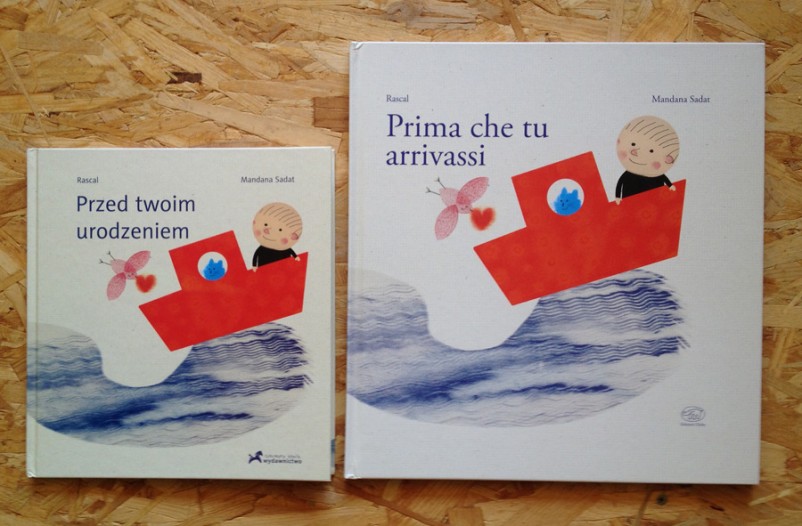 ***********************************************************************************************************
Illustration de "Trompa con trompita" (Trompe et trompinette),
textes poétiques de Jorge Luján.
*Extract "Trompa con trompita", poetic texts by Jorge Luján.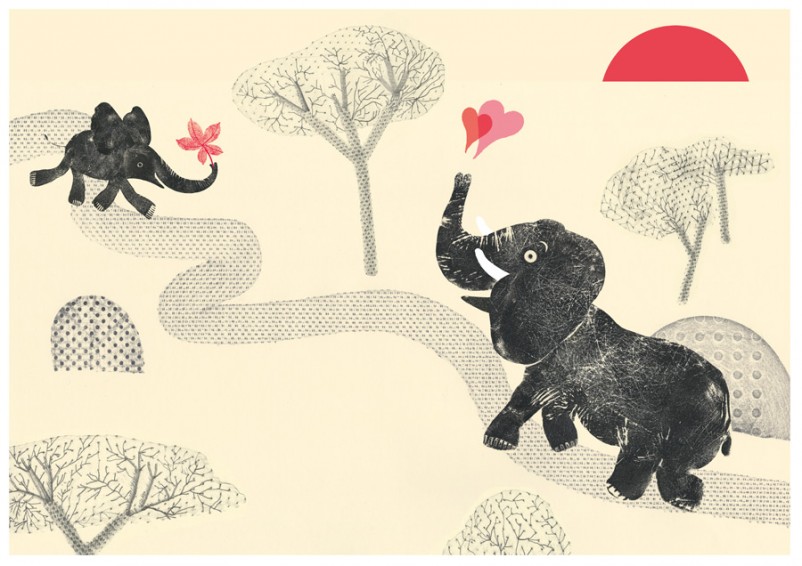 Après le charmant Salon du Livre d'Issoudun fin Janvier, et une participation pour l'exposition "Illustrative Today" à Istanbul (avec des artistes que j'admire beaucoup), etc…j'ai travaillé mes projets d'albums pour la fameuse "Fiera del Libro per Ragazzi di Bologna 2015"! L'occasion aussi de voir et revoir des personnes que j'apprécie beaucoup.
*After a nice Book Fair in Issoudun (around the center of France), a participation to the exhibition "Illustrative Today" in Istanbul (with artists I admire a lot), and so on…I worked on projects that I shared in the famous Bologna Book Fair. Also, it's an opportunity to meet people I appreciate a lot.
Dans le contexte actuel, je trouve cette phrase de Rodari absolument essentielle.
*In the actual context, the sentence of Rodari sounds essentiel, more than ever…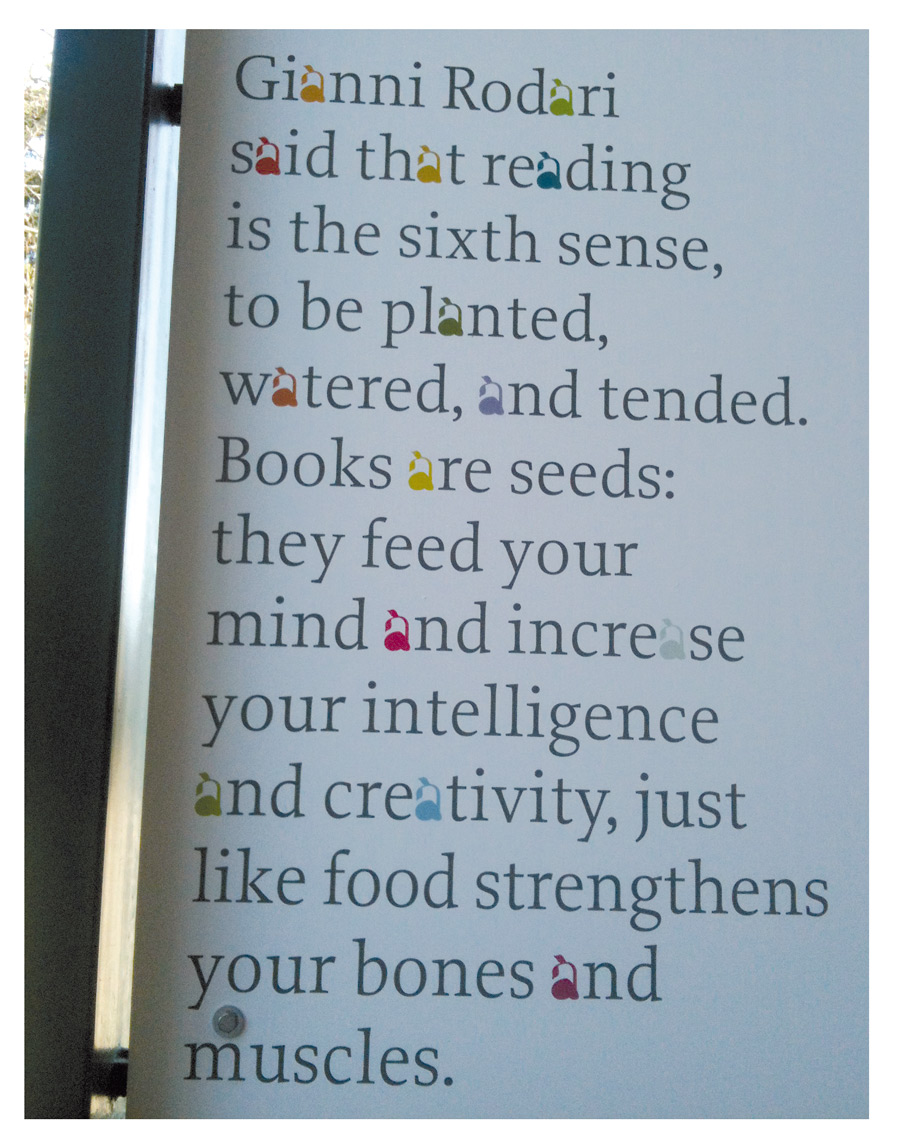 Joyeuse "Graouh" Année 2015 !
*Happy "Grrraow" New Year !
(déclinaison extraite du prochain album avec Jorge Luján/ sample  from the next book with Jorge Luján).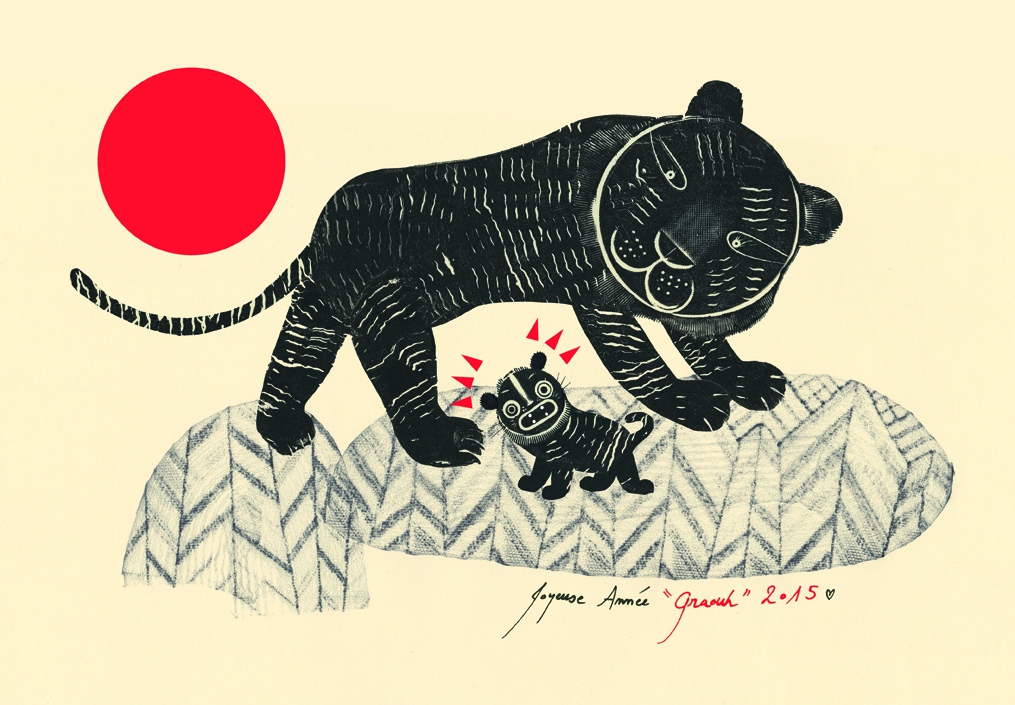 ****************************************** 
Je vous présente avec joie la version chinoise de "Soleil d'hiver" chez CCPPG, 2014.
*I present you with joy the chinese publishing of "Winter afternoon" at CCPPG publisher 2014.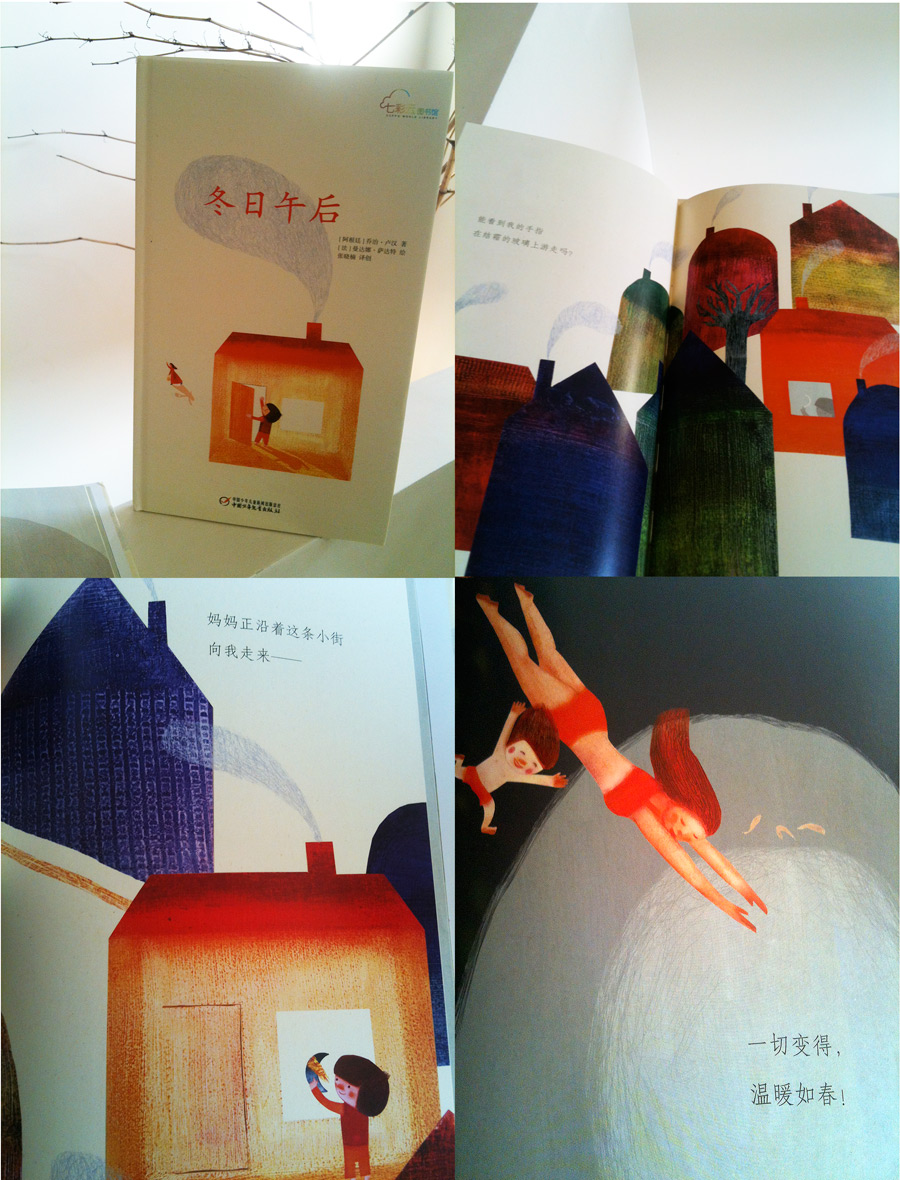 *********************************************
10 ans tout juste après la publication de mon album "Le jardin de Babaï" (édition Grandir/2004), je viens d'être invitée au Brésil pour un festival mené par la troupe de théâtre "Grupo Sobrevento" de São Paulo. Cette troupe a créé un festival novateur : ils ont réalisé et présenté des pièces de théâtre pour les bébés et invité divers artistes du théâtre pour bébés. Luiz André Cherubini a adapté "Le Jardin de Babaï" depuis 2010 et j'ai eu l'immense chance de voir la pièce, jouée à l'occasion au sein d'une crèche… C'est assez surréaliste de voir son propre livre "vivre en chair et en os" 10 ans plus tard, sans parler de l'énergie bienveillante déployée par les artistes, et des multiples petits visages ébahis…autant dire que l'émotion était au rendez-vous!
*10 years ago my book "le jardin de Babaï" was published in France (Grandir/2004) and I had the fantastic luck to be invited this summer in São Paulo by a great theater group named "Grupo Sobrevento". They have created a particular festival : theater for babies ! Luiz André Cherubini adapted in 2010, my book "Le jardin de Babaï" (Babaï's garden) and I discovered it this summer with a surrealistic and amazing feeling, a huge emotion…

Ci dessous : quelques photos d'un autre temps fort de ce fabuleux voyage: l'exposition et rencontre au centre culturel " Clac" de São Bernardo commune de l'état de São Paulo (Brésil).
*here, some photos of the exhibition and meeting we had in the cultural center named Clac in São Bernardo, inside the state of São Paulo (Brasil).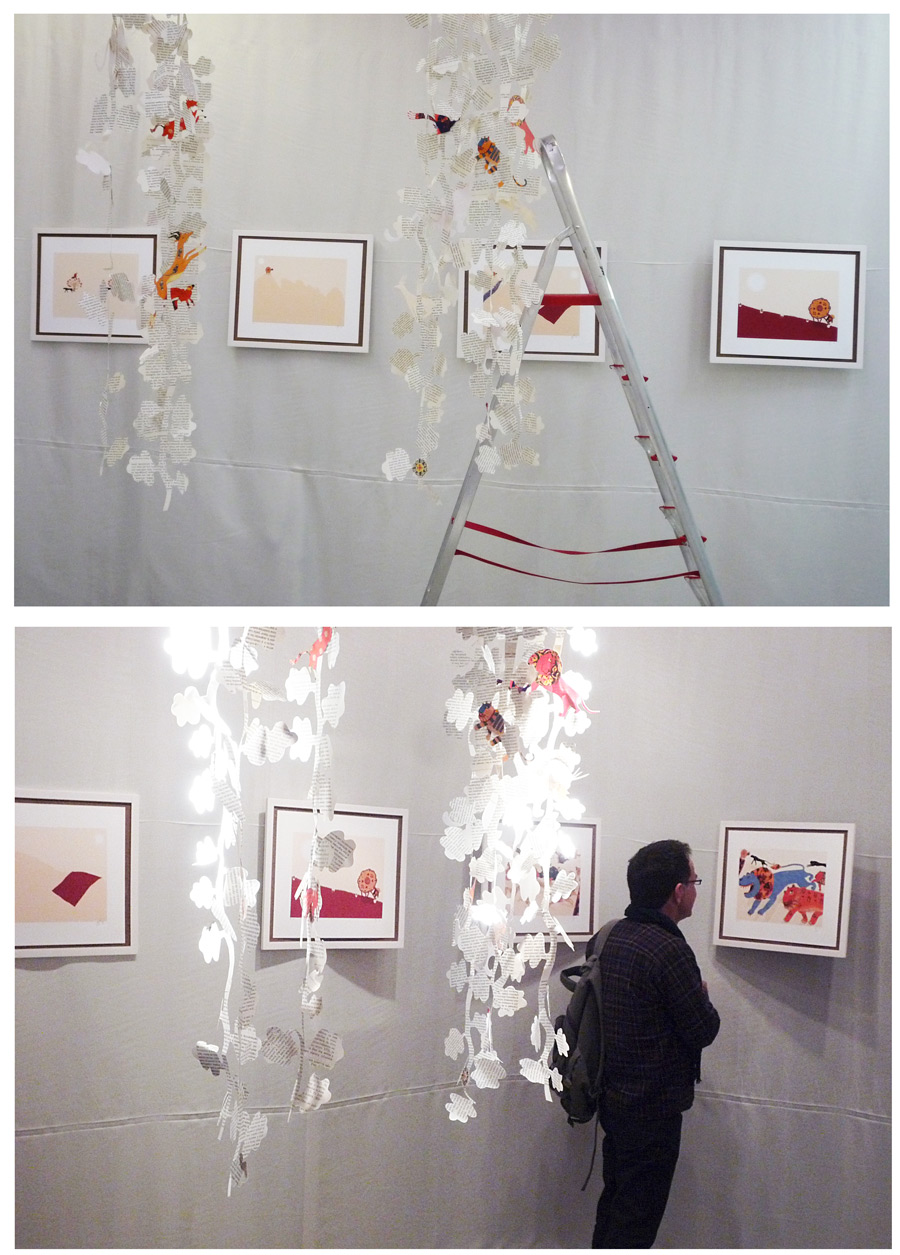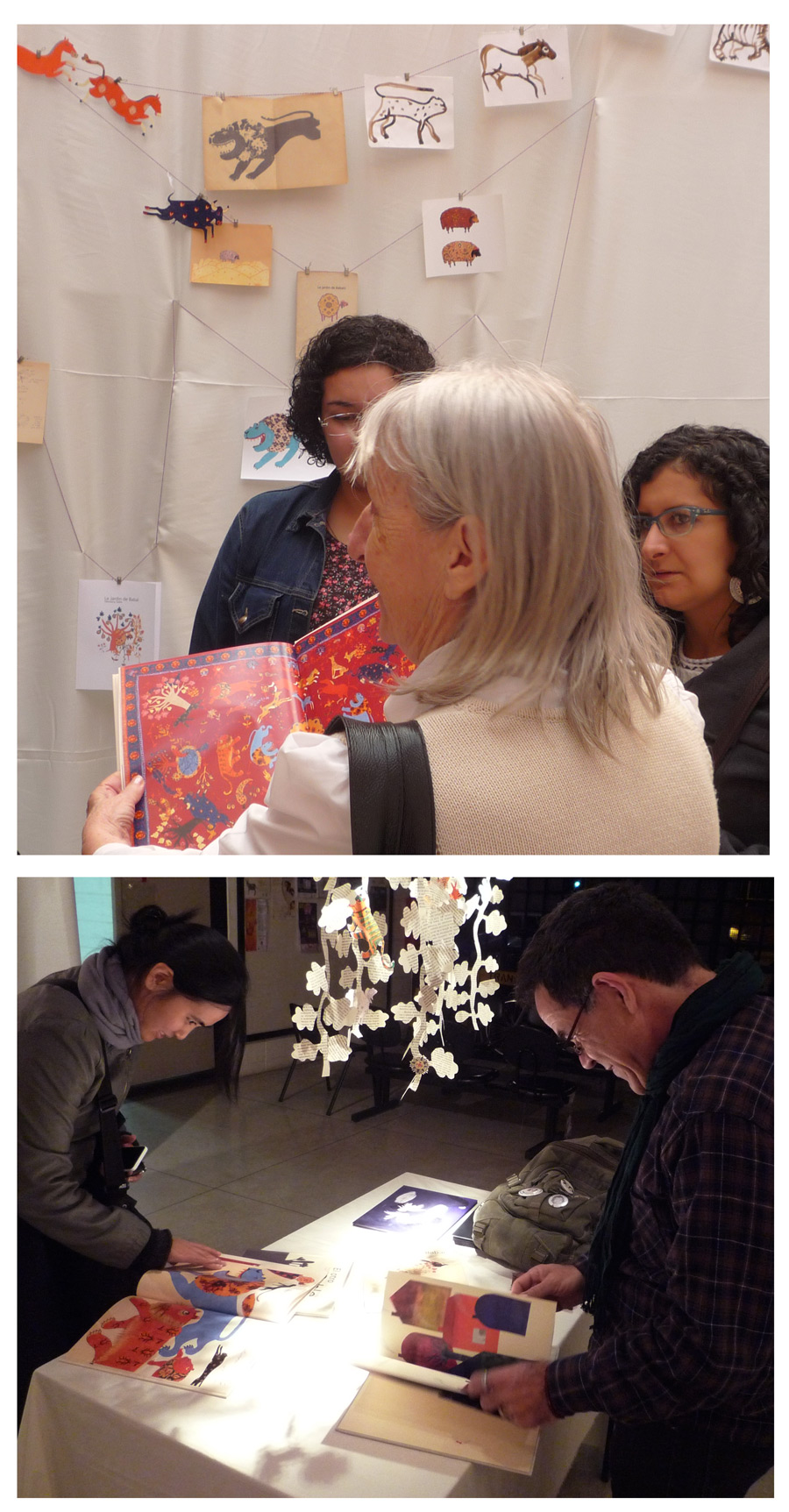 Aussi ce mois d'août 2014 fut le mois de l'Amérique Latine pour mon album "Le jardin de Babaï" : effectivement, les impressions originales (1/2) du jardin de Babaï sont présentées au même moment au musée Franz Mayer de Mexico, dans le cadre de l'exposition: "Dibujando el Mundo" (en parallèle du congrès IBBY) avec la participation de Mortéza Zahedi (Iran), Květa Pacovská (République Tchèque), Isol (Argentine), Javier Zavala (Espagne), Shaun Tan (Australie), Piet Grobler (Afrique du Sud), Sara Fanelli (Italie), Gabriel Pacheco (Mexique), Alejandra Acosta (Chili) et Baba Wagué Diakité (Mali). Autant dire que c'est un grand honneur au regard de l'immense admiration que je porte aux artistes invités…alors, un immense merci aux organisateurs !!!
Ainsi les livres voyagent dans le temps et dans l'espace…parfois ils nous amènent avec eux dans des lieux fabuleux, rencontrer des gens merveilleux!
*Amazingly, at the same time, I had the honor to have my original printings (1/2) of "Le jardin de Babaï" exhibited in the "Museo Franz Mayer" of Mexico city, near the work of  fantastic artists! I'm thankful to the organizer !!! The exhibition named "Dibujando el Mundo" is related with the IBBY congress 2014.
(photos glanées sur facebook)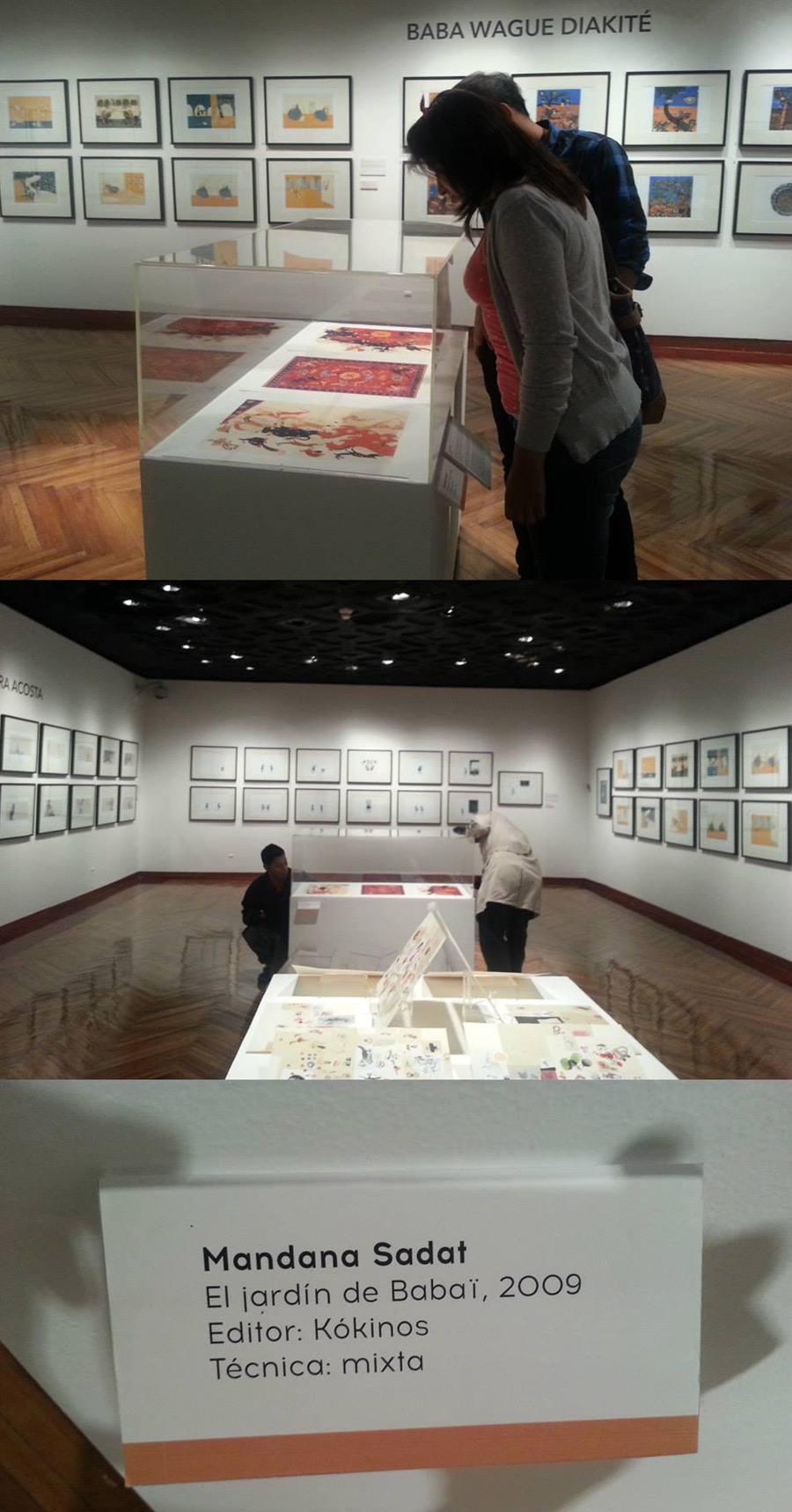 **************************************************************************************************************
Bon week-end lors de la 27 ème journée du livre de Sablet en Provence (20-21 juillet 2014)…même sous la tempête ! Un grand merci aux différents organisateurs, à ma famille d'accueil, et à la  joyeuse "grappe d'illustres illustrateurs" en délire, rires et baume au coeur!
*Happiness and great meetings at Sablet (a nice book fair in the south of France in july 2014)!
…Et la surprise dans ma boite aux lettres:  "Du bout de mes doigts" (Ed. Syros) imprimé au Canada chez Groundwood books: un album bilingue anglais / espagnol : "Movi la mano, I moved my Hand".
*Great! here it is, the bilingual book English/Spanish of "Du bout de mes doigts" from Toronto…Movi la mano, I moved my Hand, a Groundwood books edition!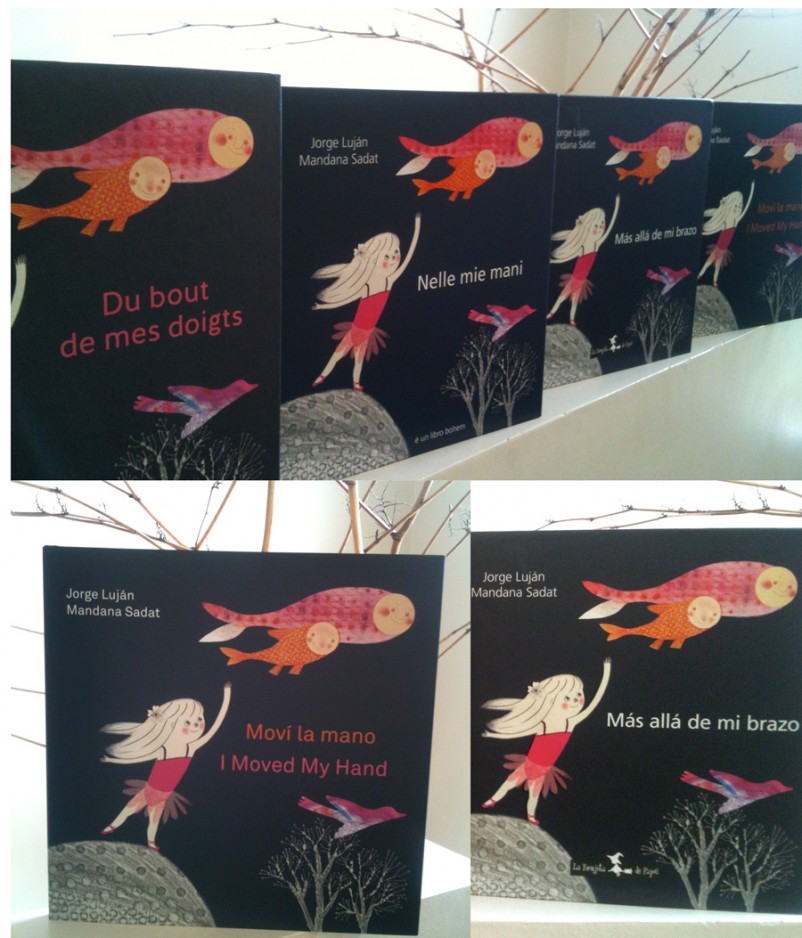 **********************
Bonjour, je travaille sur mon prochain album en tant qu'auteur-illustrateur…il devrait être prêt en juin…
*Hello, I'm actually working on a new project as author and illustrator…it should be ready in june…
**********************
"Mon ami Kemushi" est aussi espagnol…!
*"My friend Kemushi" is also spanish…!
Salut, comme certaines tortues, il m'arrive d'hiberner…mais voici quelques nouvelles depuis janvier 2014!
*Hi ! As some turtle do, I have slept during the winter…but here are some news since the happy new year!
Réalisation et expositions d'une nouvelle série d'impressions originales: édition 40 cm x 60 cm, limitée à 10 exemplaires par illustration, numérotées,"gaufrées", signées! Aussi, petit à petit, ma boutique "on line" se peaufine…
*I made and have exhibited a new series of limited originals prints (40 cmx60 cm, signed and numerated). Little by little, my "online shop" is getting ready…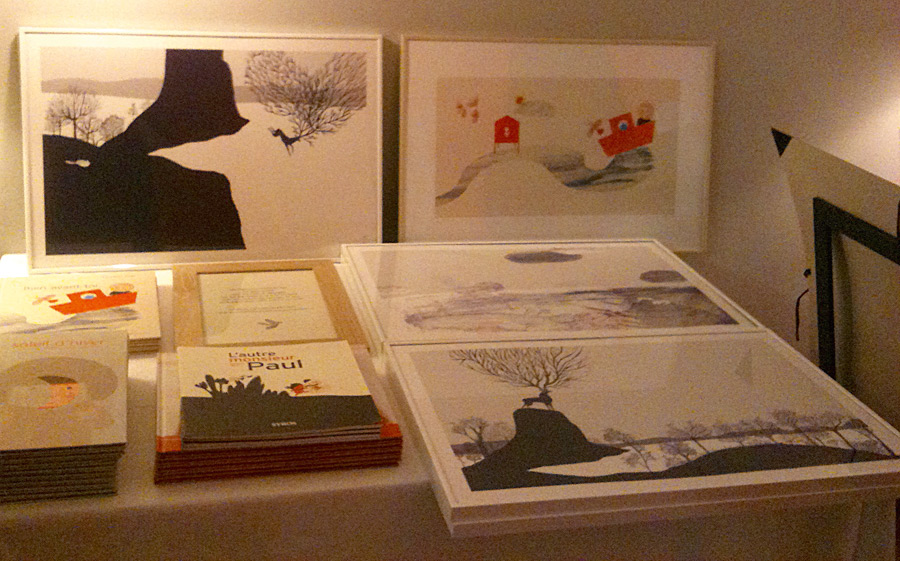 De jolies rencontres au salon Playtime à Vincennes: connections avec le monde du design textile pour enfants, des stickers muraux écologiques (Milan), des créations textiles pour enfants bien dans l'air du temps (comme par exemple la collection imprimée "popup shop"qui se veut "green label" présenté par Saperlipopette, stand que j'ai agrémenté avec mes toutes nouvelles impressions), des boutiques de vêtements pour enfants, des bijoux et de la décoration pour enfants…bref, aussi beaucoup d'idées à canaliser!
*Unexpected and interesting meeting in the international fair Playtime (Paris): textile design for children, fashion clothes for children, "green label" in the air (like "popup shop" brand, represented there by Saperlipopette, stand where I exhibited my new originals prints) decoration and jewels still for children…and so on! Many ideas in perspective.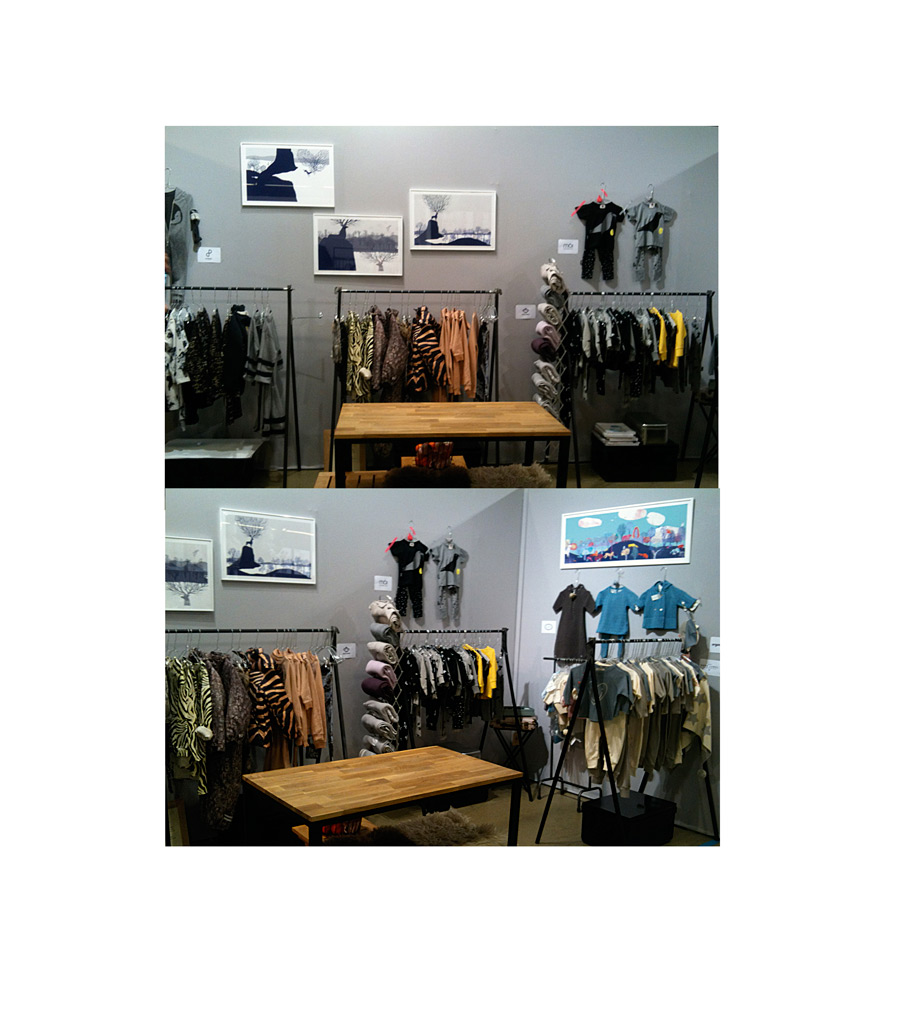 Exposition de mes impressions originales de "Bien avant toi" (Rascal) à la "Médiathèque l'@telier" de Sevran. Pour ceux qui ont aimé cet album, il ne reste plus que quelques exemplaires avant épuisement…Très agréable rencontre avec les professionnels des écoles et médiathèques de la ville:
*Exhibition and nice meeting in the library of Sevran (North of Paris).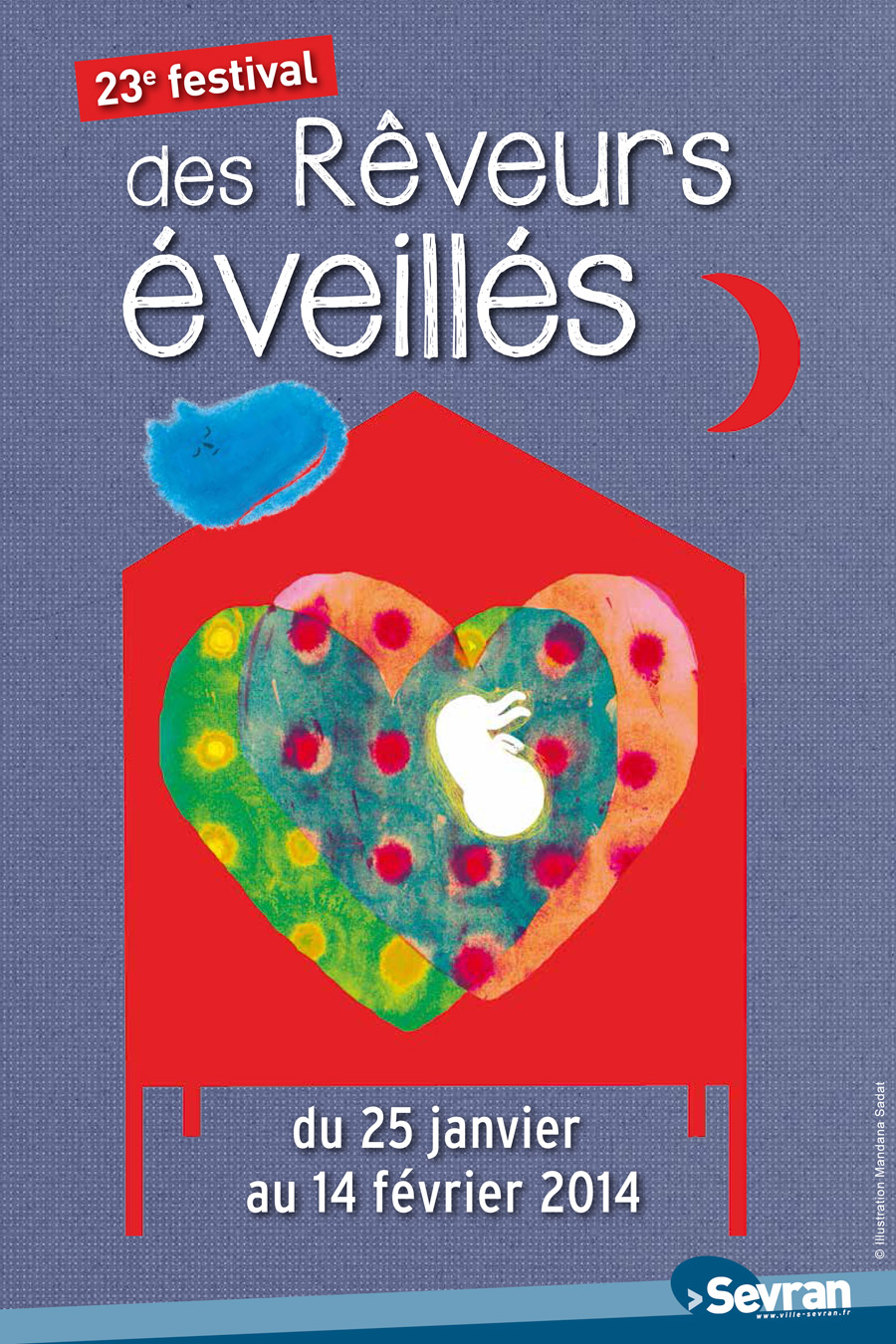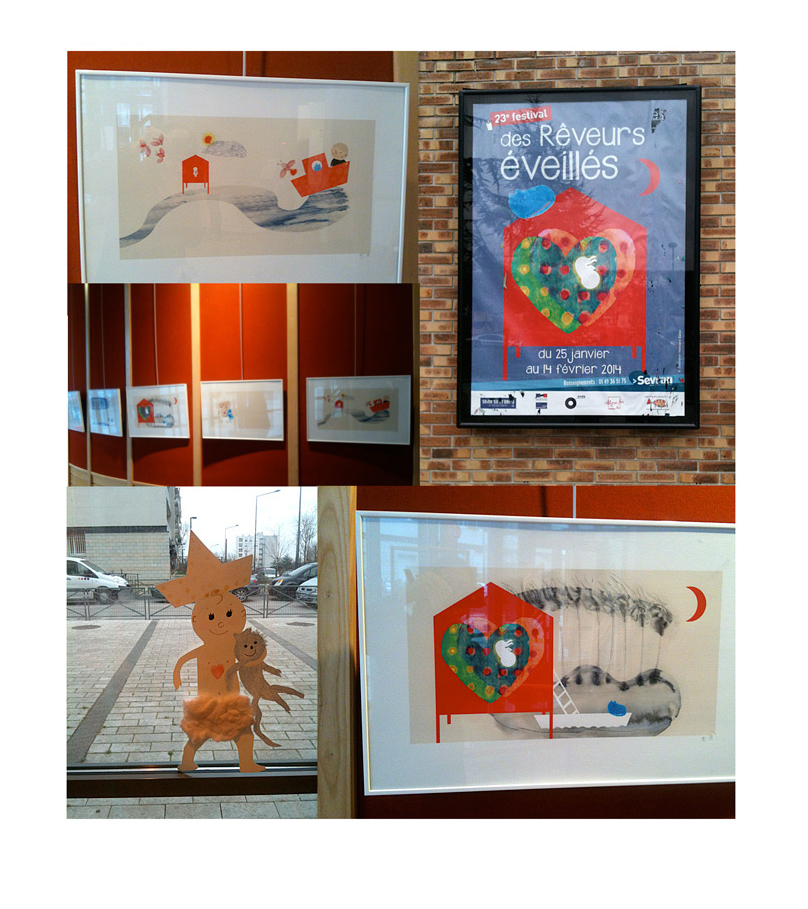 Exposition actuellement à la très jolie librairie "La Fabrique Vagabonde", à Versailles: un bel endroit coloré, rêvé par Véronique et Clotilde: c'est une librairie jeunesse + galerie + ateliers d'arts plastiques et autres, bref, un lieu riche et dynamique pour susciter des rencontres enjouées et magiques…atelier avec les petits et vernissage le samedi 29 mars… Et une jolie présentation par Peek it magazine.
*Exhibition at the lovely bookshop of  "La Fabrique Vagabonde", in Versailles.
The place is a gallery showing original illustrations for children and also is a bookshop and also a workshop place…By the way, I will have a workshop on 29th march 2014 and also it will have a "vernissage" in the evening… More on Peek it magazine.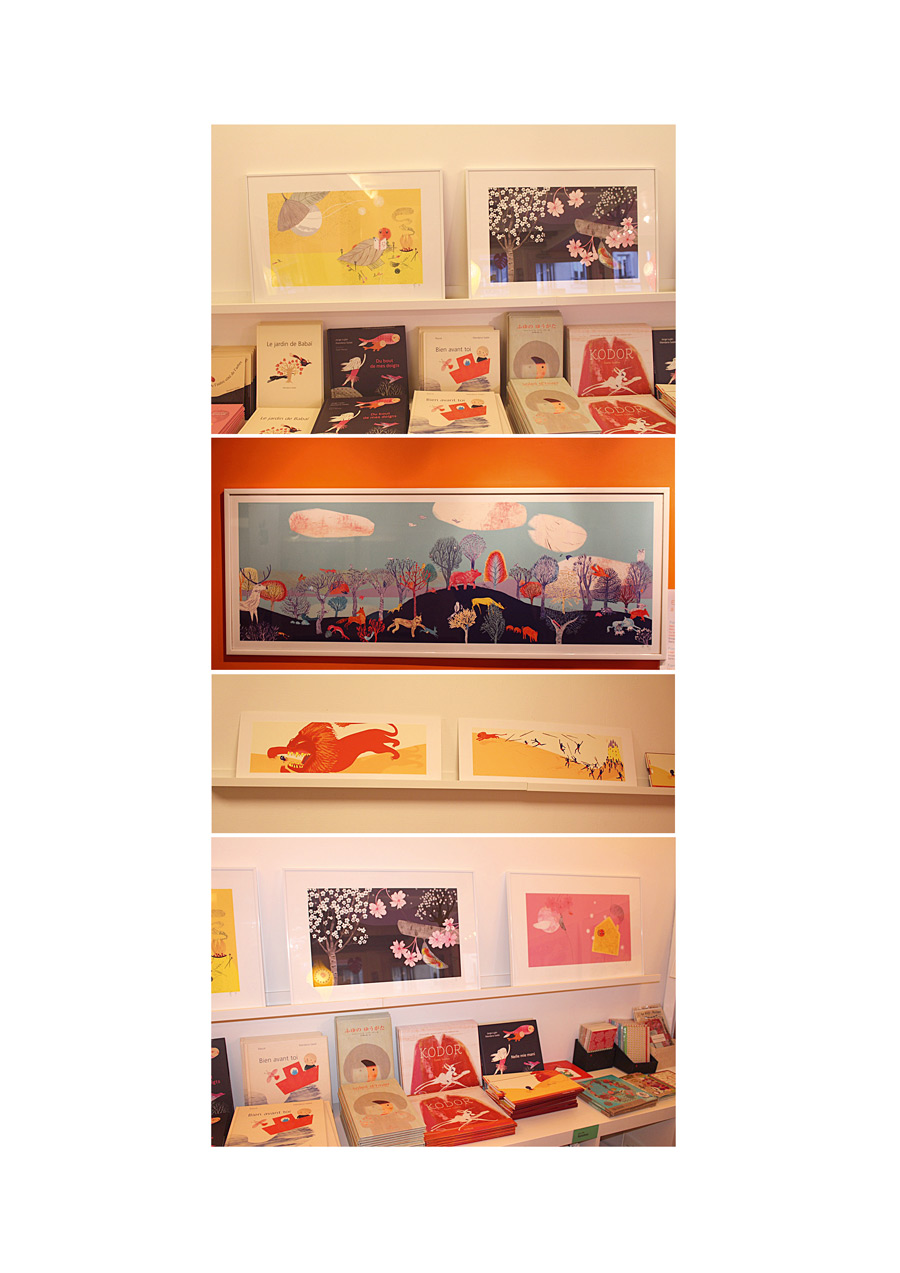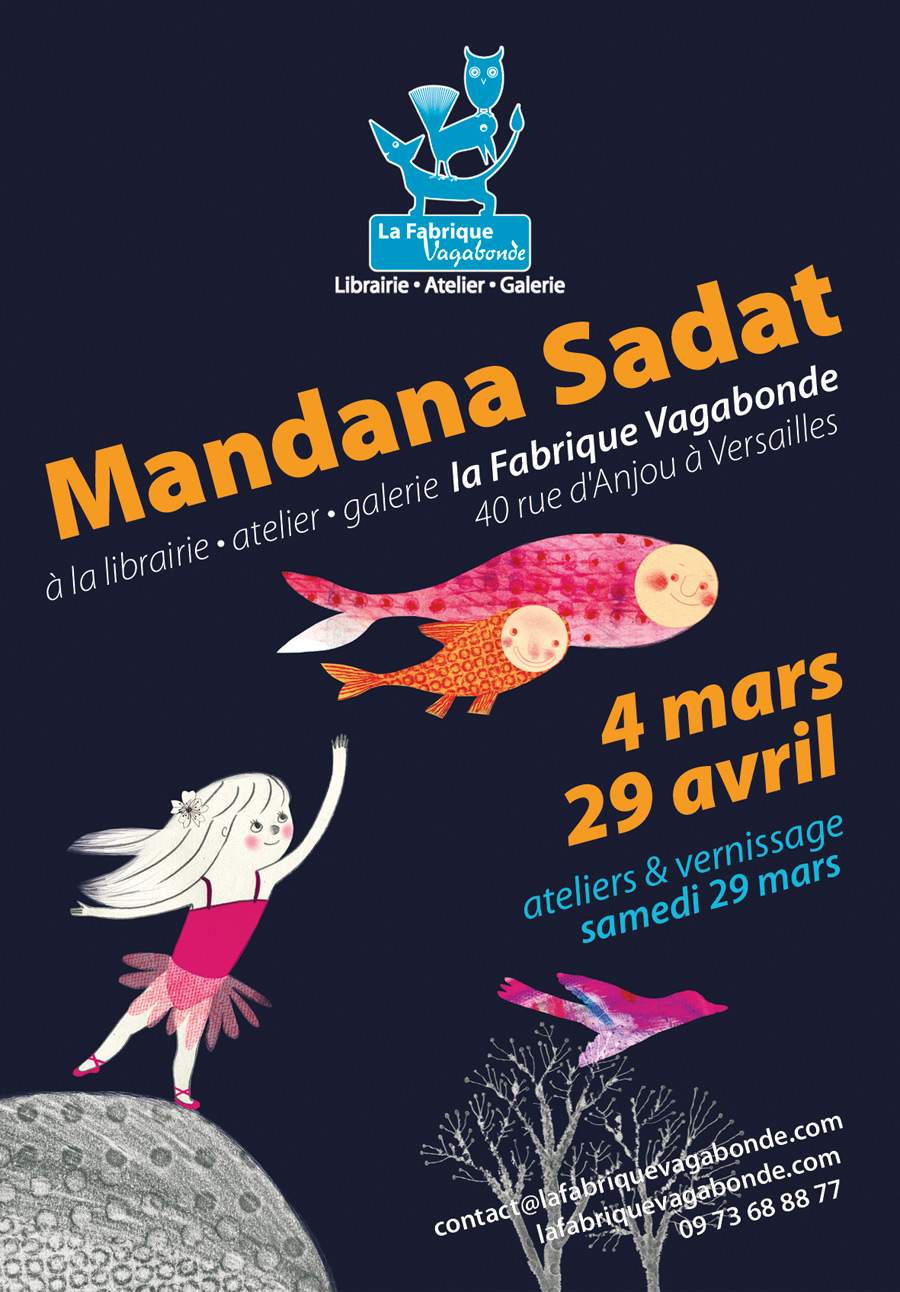 Enfin, je souhaite partager ce délicat travail avec vous: un musicien italien, Federico Squassabia, m'envoie sa composition de piano réalisée autour de l'album "de l'autre côté de l'arbre" (el otro lado del arbol / oltre l'albero)…ainsi ce tout premier album réalisé lors de mes études m'apporte encore 18 ans plus tard de bien jolies surprises…
"Oltre l'albero" (De l'autre côté de l'arbre), cliquez là…
*I received some days ago a wonderful gift from an italian musician Federico Squassabia: He made a piano composition for my first book "De l'autre côté de l'arbre" made 18 years ago, when I was still  a student…here, I share it:
"Oltre L'albero"by Federico, click here to hear…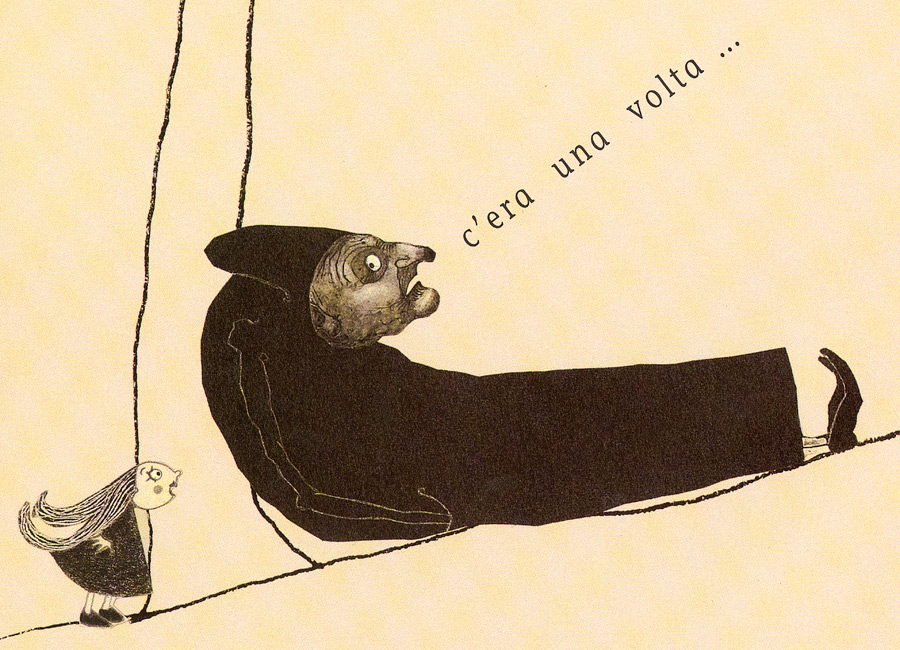 (…)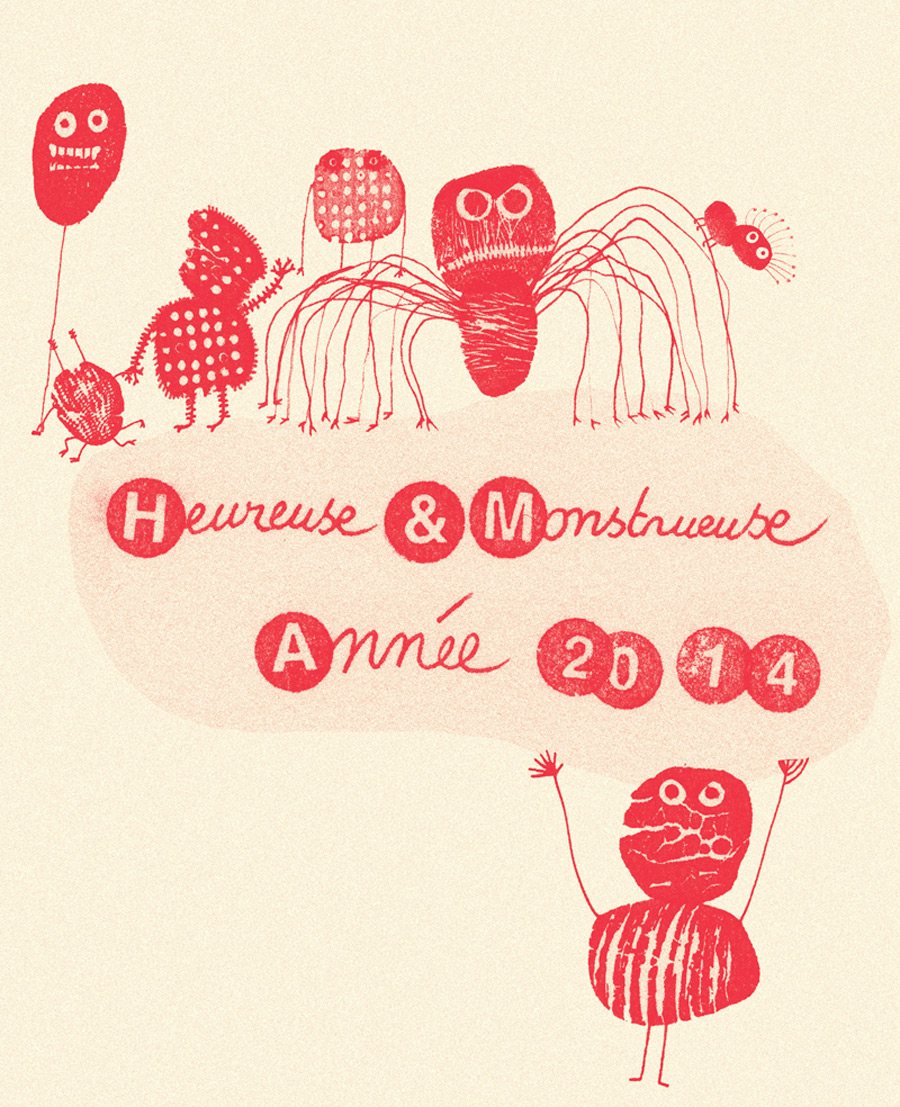 Quelques dates à partager, je serais très très heureuse de vous y rencontrer…
—signature dédicace de mon dernier album "Du bout de mes doigts" au Salon du livre de Montreuil le samedi 30 novembre stand Syros de 10h à 11h30 puis le dimanche de 10h à 11h30 et de 15h à 16h, toujours stand Syros.
—signature dédicace (plusieurs titres) le samedi 14 décembre après-midi, à la librairie Liragif de Gif-sur-Yvette.
*I will sign "Du bout de mes doigts" in "Montreuil Book fair" (near Paris) on saturday november 30, on Syros place, 10 am/11:30am and on sunday 10 am/11:30 am and 15 pm until 16 pm.
I will sign at Liragif (books shop) in Gif-sur-Yvette (near Paris) on saturday afternoon the 14 of december.
(illustration pour le magazine allemand, Nido, oct.2013)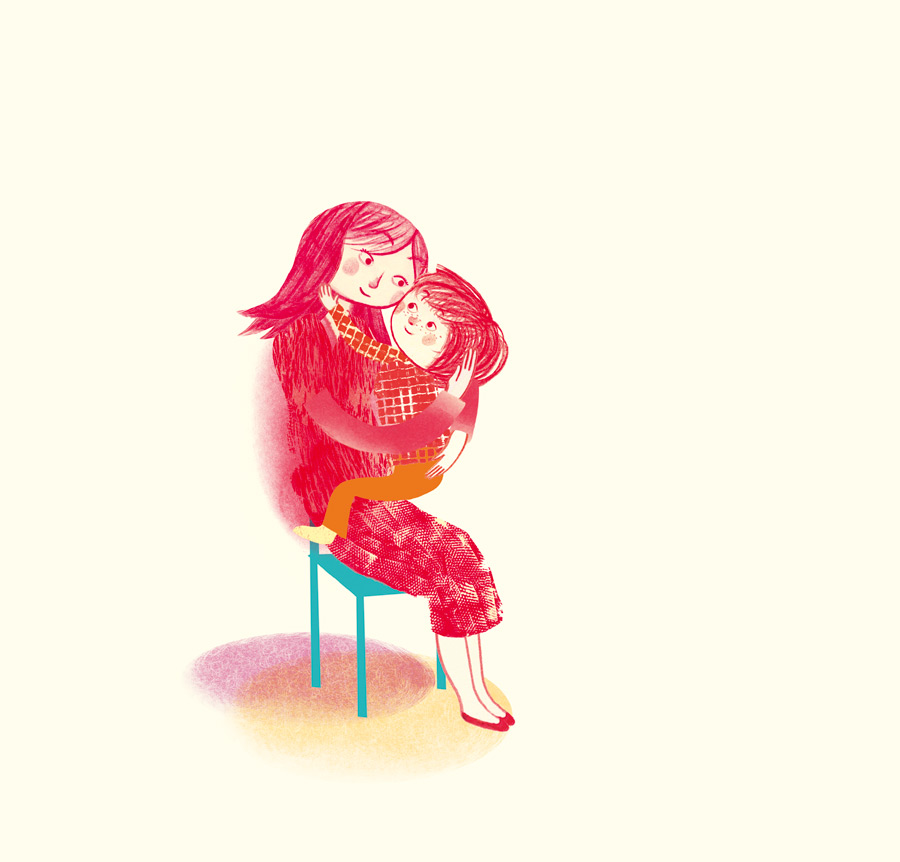 Le voilà tout juste sorti de chez l'imprimeur/relieur et maintenant disponible en librairie : Du bout de mes doigts, poème de Jorge Luján et traduction de Carl Norac, chez Syros, Paris ! C'est la toute première impression que je tiens du bout de mes doigts… sur un très beau papier mat (couverture+intérieur) un rendu feutré, tout en subtilité, comme je l'imaginais! J'espère maintenant pouvoir partager cette joie avec vous…j'attends vos commentaires, votre soutient…
*Here it is : "Du bout de mes doigts" (beyond my hand / Mas alla de mi brazo) text by Jorge Luján. A very beautiful french version on a matt paper (cover+inside), by Syros Paris!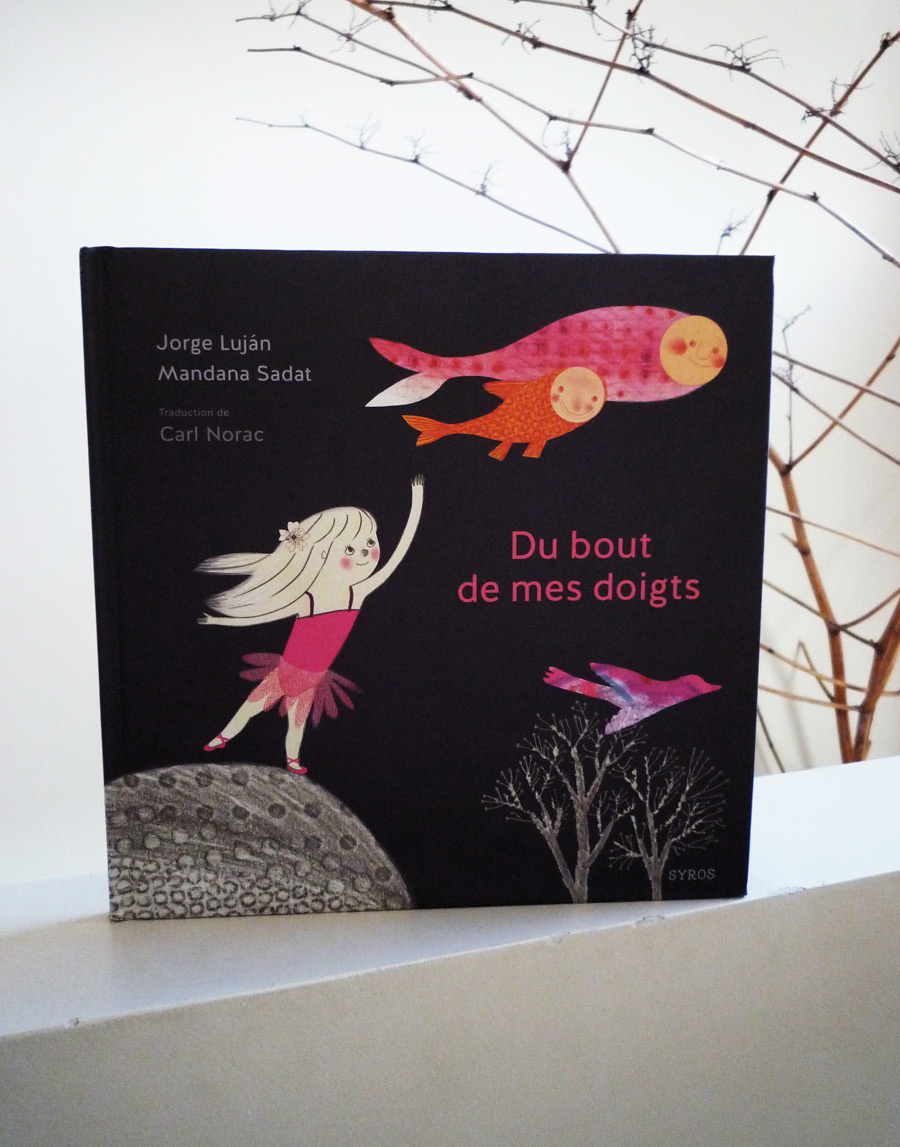 Prints from "Más allá de mi brazo"  
*Just to share: some extracts of the prints I made from my last book with Jorge Luján, "Más allá de mi brazo" (Beyond my hand). A french version will be ready in october 2013 at Syros (Paris).
These illustrations will be exhibited in Sarmede (Italy).  
It is printed on a thick epson paper with durable inks.
Voilà quelques échantillons d'illustrations de mon prochain livre avec Jorge Luján.
Cet album, "Du bout de mes doigts", adapté en français par Carl Norac, sortira en octobre 2013 chez Syros. Je viens de réaliser un travail d'impression sur un beau papier type aquarelle avec des encres durables. Les illustrations seront exposées à Sarmede (exposition collective, Italie).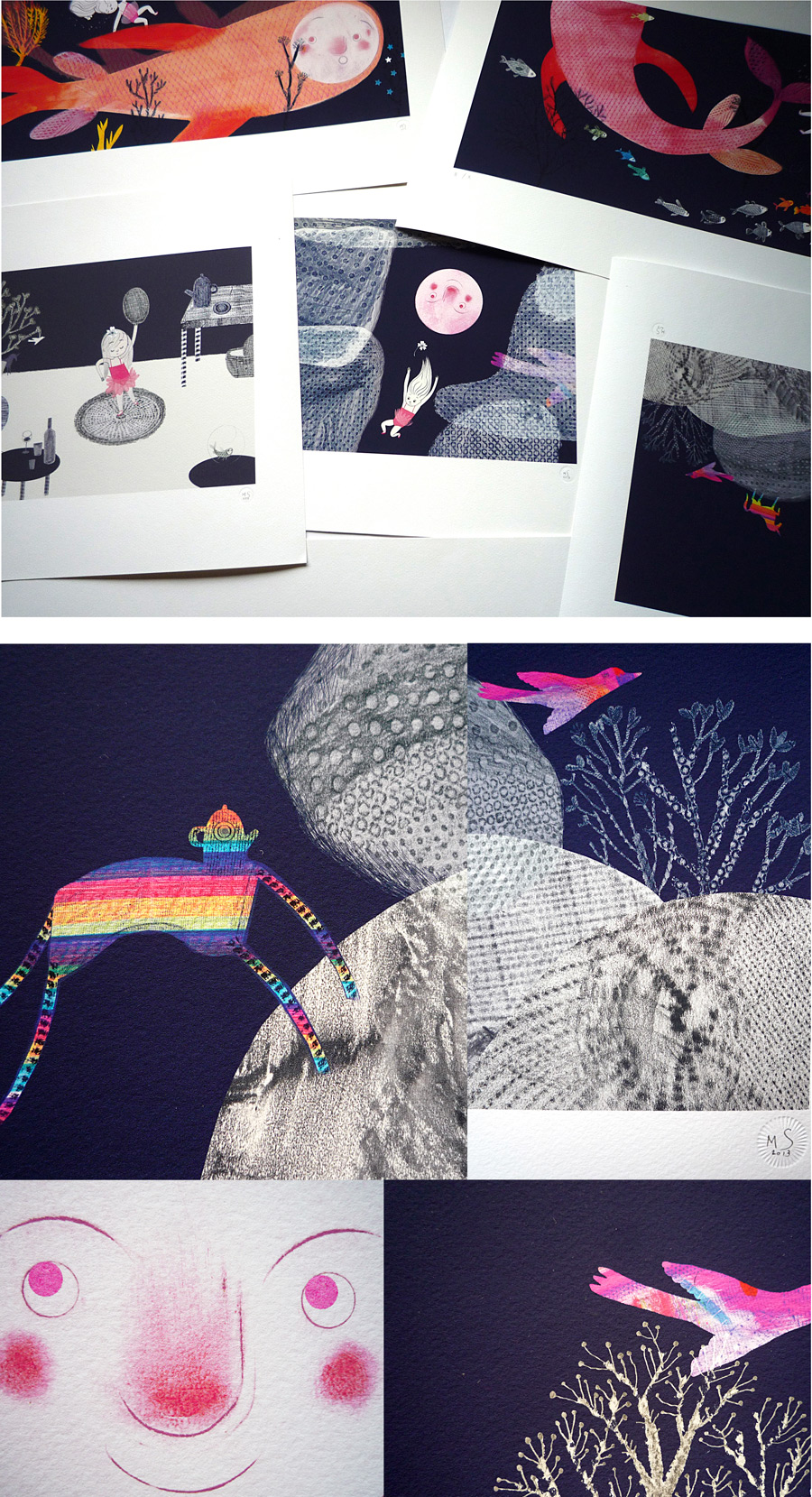 Portuguese — Persian
*Le voilà enfin dans mon jardin, le coloré "O jardim de Memé" ! ("Memé" veut dire "petit mouton" en portugais … comme "Babaï" veut dire "petit mouton" en Farsi)

At last, it has just arrived in my garden, the colorful "O jardim de Memé" ! ("Memé" means little sheep in portuguese … as "Babaï" means "little sheep" in iranian)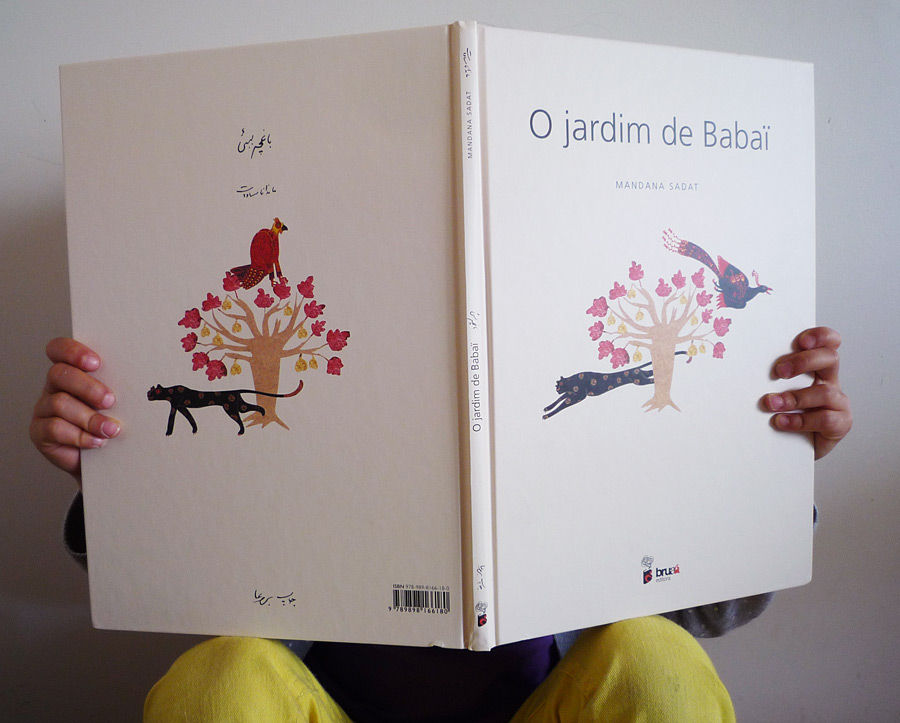 *Quelques extraits des ateliers en Avril dernier avec des maternelles, à qui j'ai fait faire "un sérieux travail d'étudiant en illustration"…(!) Je suis fascinée par leur aisance, le plaisir visible dans leurs traits instantanés : mais comment leur dire que beaucoup d'artistes tentent de retrouver cette capacité (devrais-je dire cet "état") à dessiner comme ils le font ? Avec plus de temps, (et de lumière pour la photo) j'aurais montré tous leurs croquis ici…
How to say to the small children I just met in April, how much fascinating are their roughs ?
They draw carrefuly a story board for a Kamishibaï, as students in illustration would have! I really admire their easy, alive and joyful lines…some artists would like to be able to draw this way again.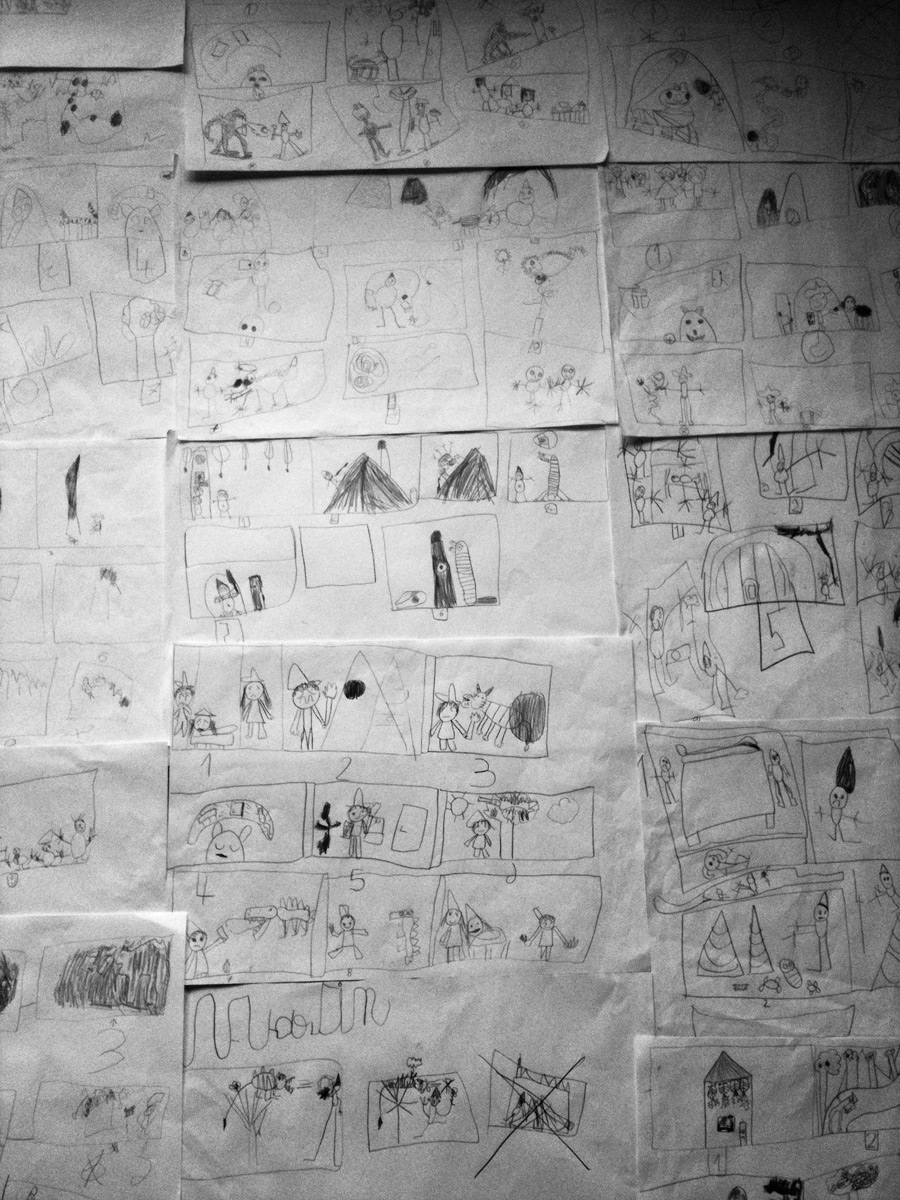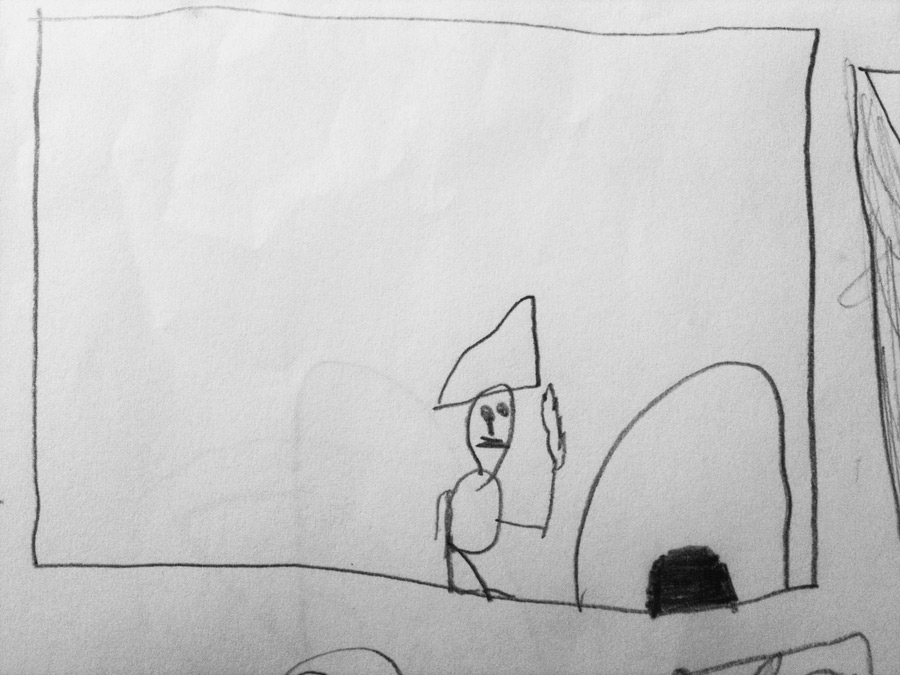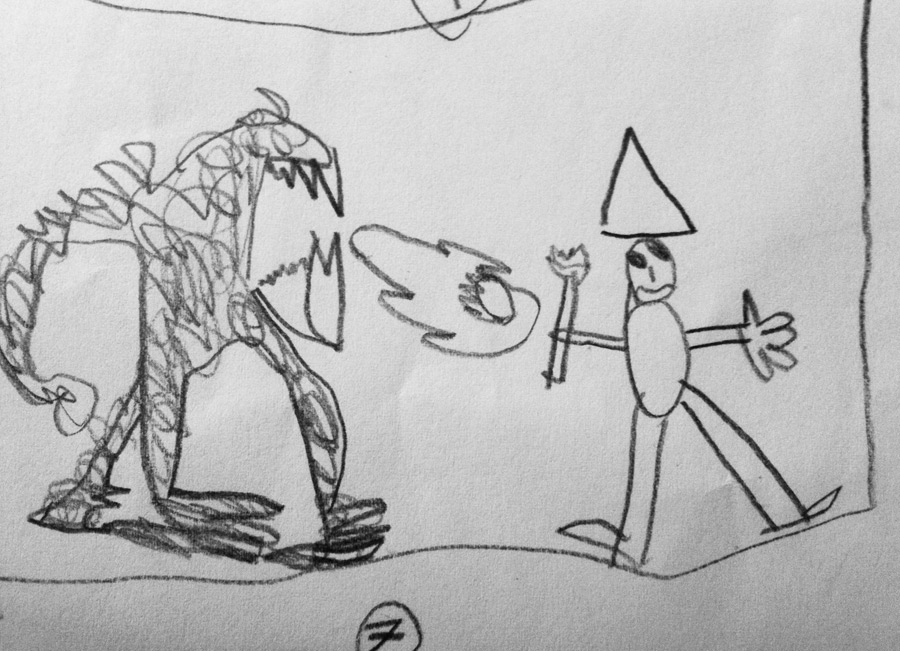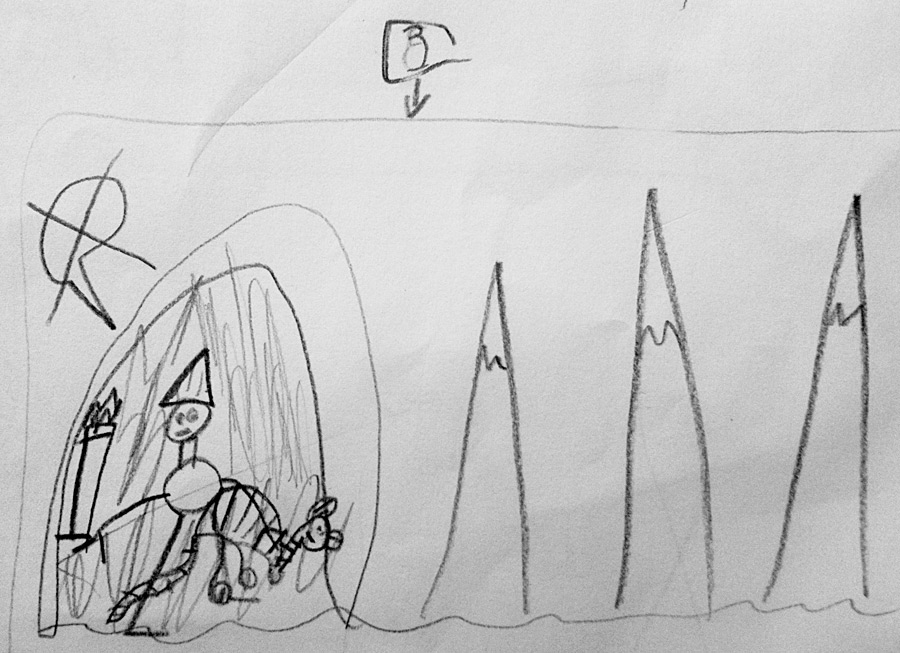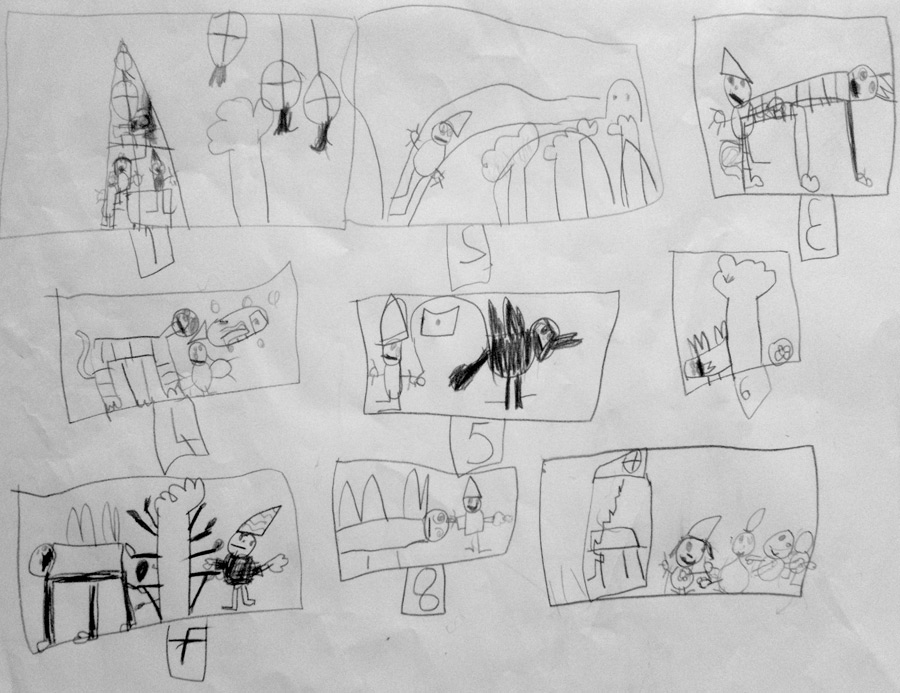 Autre travail avec les plus petits:
Other work with smaller children:
Little books: same story invented all together but each child is the illustrator of his/her own book.
Petits livres: historiette inventée ensemble mais chaque enfant est l'illustrateur de son propre petit livre.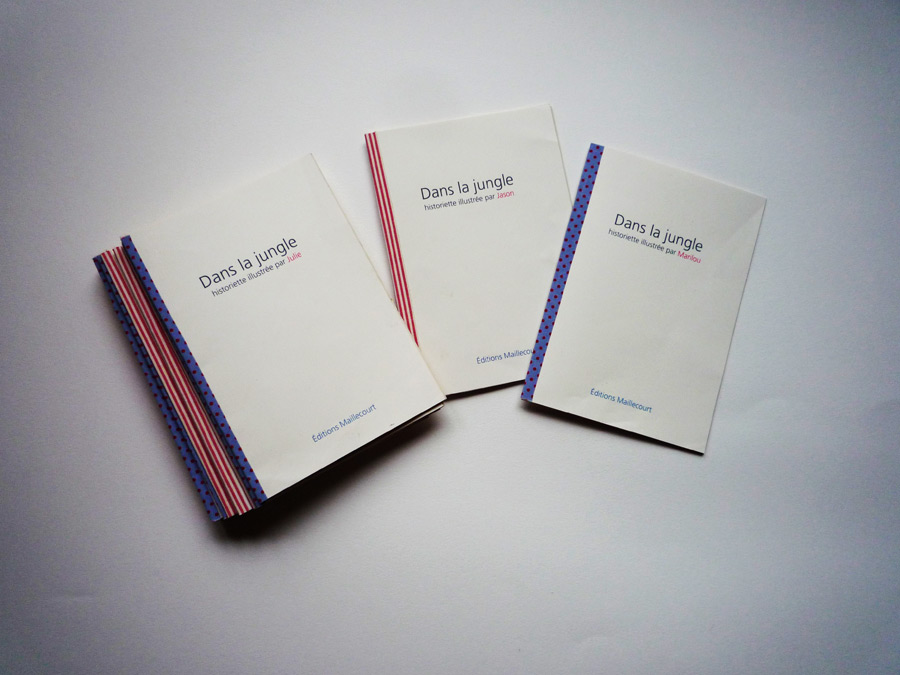 Olá Portugal !
*I'm deeply happy to have my book " O jardim de Babaï " (Le jardin de Babaï/ the garden of Babaï) for the first time in Portugal, at the beautiful Bruaá publications ! The new book is almost ready and I'm waiting for it… You can see more on the Bruaá blog.
Je suis très impatiente et heureuse de recevoir l'édition en Portugais de mon livre le Jardin de Babaï " O jardim de Babaï ", chez une belle maison d'édition: éditions Bruaá. Cet album continue son bonhomme de chemin et me mène indirectement dans des contrées où je rêve d'aller… J'ai hâte de le voir ! Leur blog ici.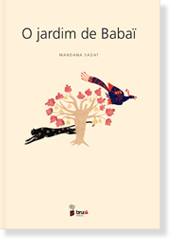 *Je reviens avec quelques trésors du salon de Chevreuse, et des rencontres agréables plutôt qu'étranges (thème du salon)…et aussi une émouvante rencontre avec un monsieur argentin, Juan, et sa famille, qui m'a parlé vivement de "Del otro lado del arbol" (de l'autre côté de l'arbre) à Buenos Aires; je vais bientôt prendre le temps de vous parler de cette association incroyable et essentielle pour les enfants de "la Plata"en Argentine…
Chouette et furtive rencontre avec Davide Cali, Antoine Guilloppé, Wang Yi, Gwen Le Gac, Eva Vincze, Julie Lannes…toujours en très bonne compagnie de Vanessa Hié.
I come back from a book fair at the "Vallée de Chevreuse" (green country not very far from  Paris) and I bring some treasures…behind these books are some talented people!
I met Davide Cali, Antoine Guilloppé, Wang Yi, Gwen Le Gac, Eva Vincze, Julie Lannes, and Vanessa Hié who participated to this fair too…I also had a moving surprise to meet a man close to a precious association "Del otro lado del arbol"(title in spanish of my book De l'autre côté de l'arbre) in Buenos Aires! One day I will tell you about it and how essential it is for the children of La Plata, in Argentina…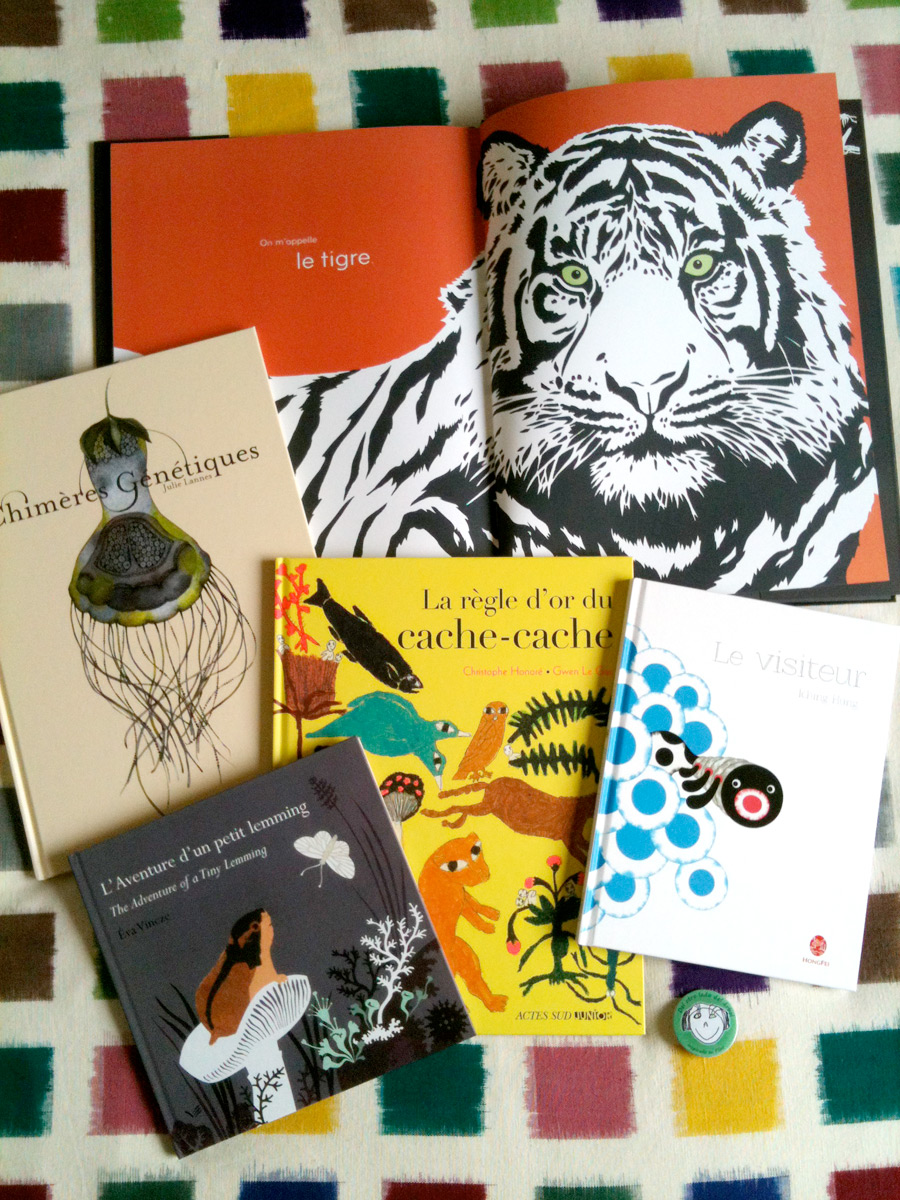 *Semaine prochaine (8 au 13 avril 2013), "rencontres étranges" dans les classes, dans le cadre du salon du livre de la Haute vallée de Chevreuse, dédicaces le samedi ! …
Next week, meetings and signatures in the book fair of "la Haute vallée de Chevreuse"(country around Paris) !
*Buongiorno Bologna!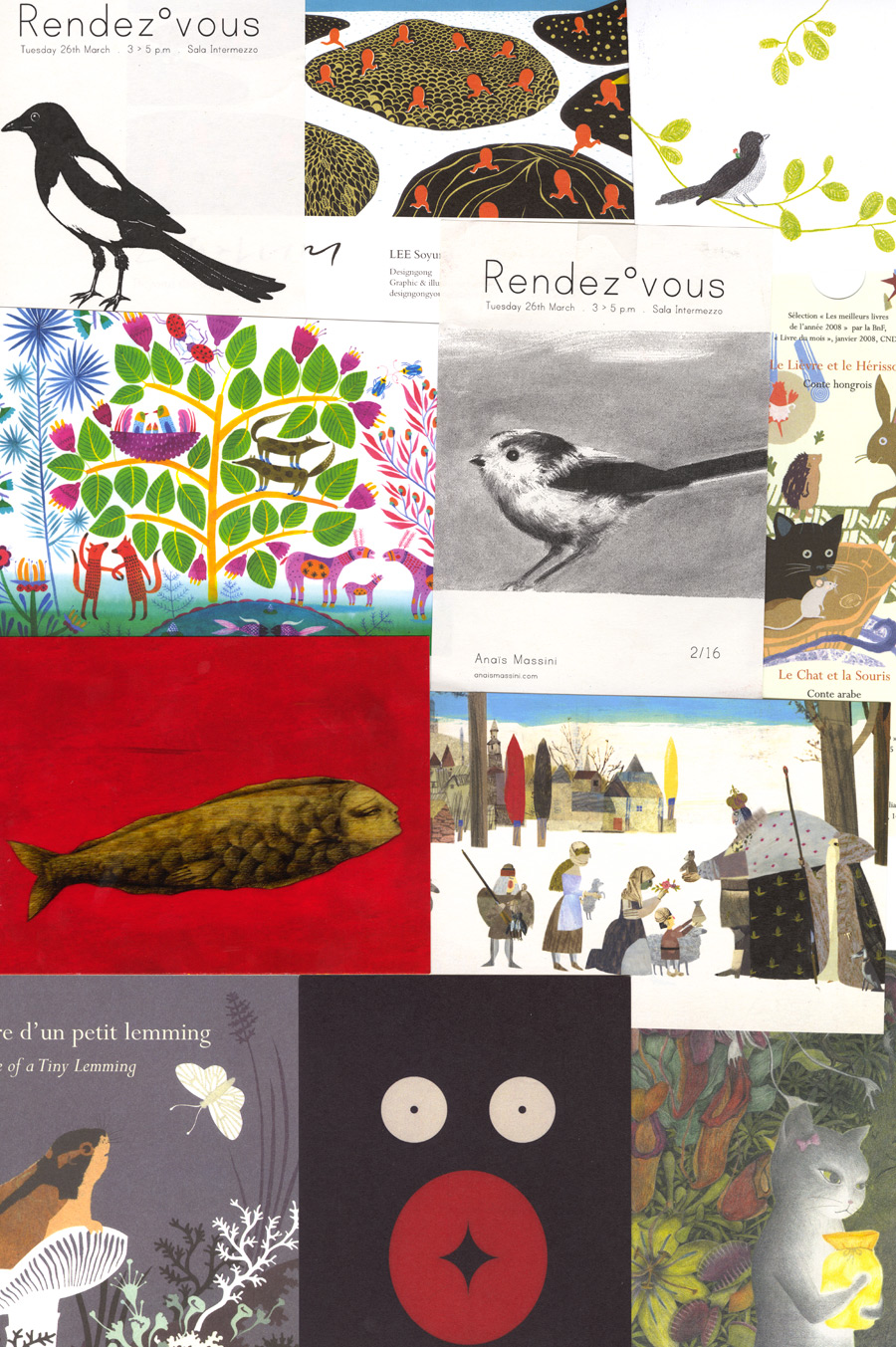 *I went to the Bologna book fair last week. I really enjoy the place for the intensity of the meetings and emulations around the children's books from all over the world, a very large vision of what can be a children's book. This year the french illustrator Vanessa Hié made the trip too… among a lot of interesting things we discovered a korean editor with a very artistic production: somebooks.
Je suis allée à La foire internationale du livre jeunesse à Bologne. C'est un lieu riche en rencontres de toutes sortes autour du livre pour enfants; beaucoup d'émulation et de diversité, aussi parce que c'est international. Cette année, j'ai eu le plaisir de faire le voyage avec l'illustratrice Vanessa Hié . Entre autres découvertes, nous avons remarqué un éditeur coréen un peu en marge: somebooks à la production conceptuelle et esthétique.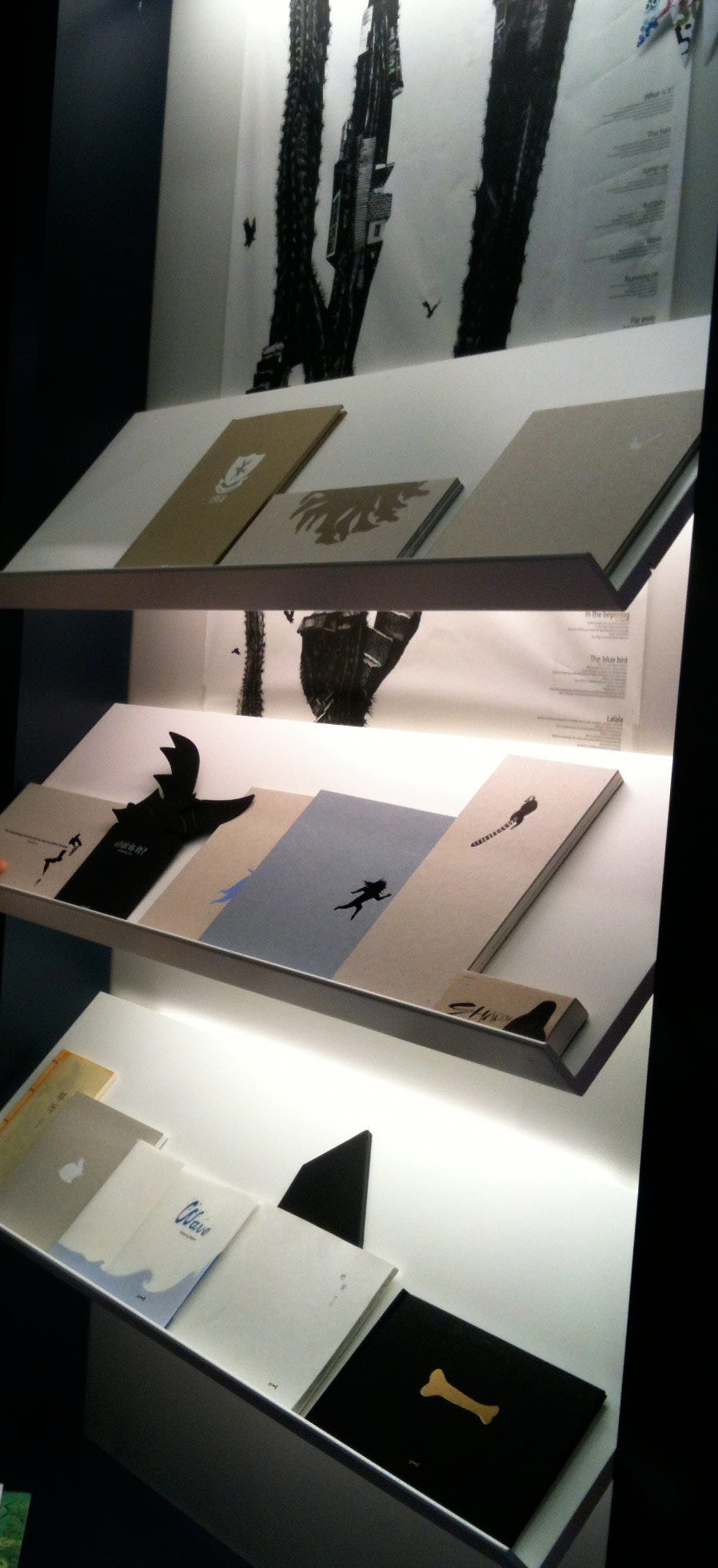 *Hello, bonjour!
I'm happy to propose you this new blog/website…! I'm also working on a shop to propose you some originals prints…
Je peux enfin vous proposer ce nouveau blog/site! Je travaille également sur l'ouverture d'une boutique en ligne pour vous proposer des impressions d'illustrations originales… Par ailleurs, j'ajouterai bientôt du texte en français sous les textes anglais!
This is one illustration of my next book on a poetic text by Jorge Luján…coming soon!
En avant première, cette illustration: elle vient du dernier album réalisé, d'après un texte poétique de Jorge Luján…des nouvelles bientôt…
I'm really not very active on Facebook but with this blog, soon I think i'm going to change a bit that point…it's only the facebook's tools with what i'm not used to…