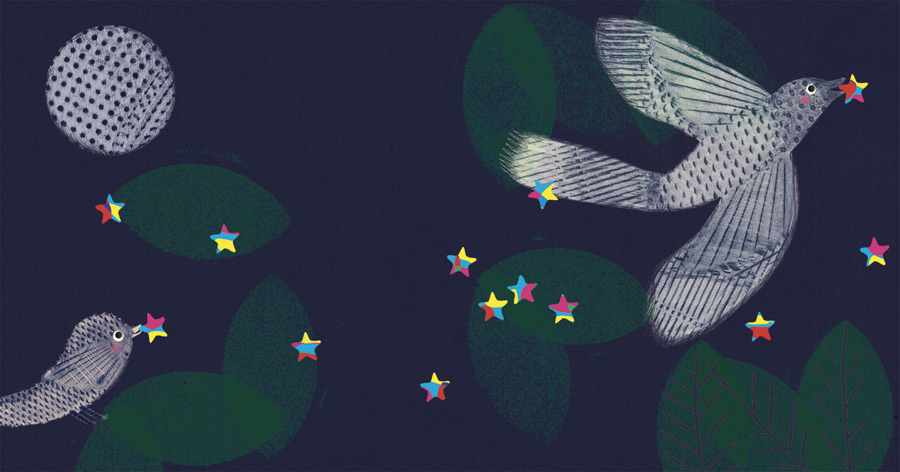 About me:
I'm a french author and illustrator for children books. I live and work near Paris. I have studied illustration at "Les Arts Décoratifs de Strasbourg"(Haute école des Arts du Rhin). I work with book's publishers in France and other countries. I travel for conferences, meetings, and workshops…
Bibliography:
De l'autre côté de l'arbre, (Beyond the tree) Grandir (France) 1997, 2005
Del otro lado del árbol, Fondo de cultura económica (Mexico) 1998, 2001 and 2003 for libros del Rincón
CWBook for the Taiwan version (Taiwan) 2006
Oltre l'albero, Artebambini 2004 and again 2004
Del otro lado del árbol, Kókinos, Spain 2021
A propos d'un petit oiseau…qui ne voulait pas apprendre à voler, (About a little bird that didn't want to fly), Grandir (France)1999
L'écho du bout du monde (The echo at the end of the world) Didier Jeunesse (Paris) 2000
Le jardin de Babaï (The garden of Babaï) Grandir, France 2004
Il giordino di Babai, Jaca Book, Italy 2004
El jardín de Babaï, Kókinos, Spain 2005, 2007, 2013
O jardim de Babaï, Bruaá edição, Portugal 2013

Mon lion (My lion) éditions autrement jeunesse, Paris, 2005, 2007, 2009
Mi león, Fondo de cultura económica, México 2006
Mon lion, par les incorruptibles, France, 2007
Korean version by Jigyungsa Ltd, 2008
Meu leào, escala educacional, Brazil 2009
Chineese version by Jiely Publishing House, 2009
Japaneese version at Shinkyo Shuppansha, Tokyo 2010
Il mio leone, Terre di mezzo, Italy 2010
Mein Löwe, Peter Hammer Verlag, Germany 2010
Mi león Kókinos, Spain 2021
Soleil d'hiver (Winter afternoon), *texte Jorge Luján, adaptation Carl Norac, Didier jeunesse, Paris 2005
Tarde de invierno, SM ediciones, México 2005
Korea Piaget for the Korean version, 2006
sera d'inverno, bohem press, Italy, 2006
sonne im winter, bohem press, Switzerland 2006
Winter afternoon/Tarde de invierno (bilingual  book), Canada, 2006
Tarde de invierno, Kókinos, Spain, 2007
Tarde de invierno, Comboio de Corda, Brazil, 2007
Zimowe popotudnie, Wydawnictwo, Poland 2008
Japaneese version at Kodansha Ltd, 2009, text adapted by Shuntaro Tanikawa
Tarde de invierno, SM Brazil, 2011
Tarde de invierno, Edelvives, Argentina 2011
and for 2014, a new version in Chinese…
Cosas con plumas (things with feathers) *Texte Jorge Luján, Kókinos, Madrid, 2006
Kodor, conte Toubou *Texte Michèle Bayar, (Kodor, a Toubou tale) Syros, Paris, 2006
Korean version at Baram Books 2007
Kodor, cuento Toubou, Proteus, Spain, 2009
L'altro Paolo (The other Paul), Orecchio acerbo, Italy, 2006
"L'autre Monsieur Paul" Syros, Paris, 2007
Kokinos (Spain) "El otro Pablo", 2008
Korean version by Barambooks in 2009.
Tres poemas mágicos (three magic poems) *author Jorge Luján, Anaya, Spain 2007
L'incroyable catalogue de Noel (2007) et Le livre des cadeaux extraordinaires,  *with Nathalie Choux, Élisa Géhin et Rémi Saillard (2010) both at Syros, France
Korean version at Baram Books, 2009
El gran libro de los regalos mágicos, SM Madrid, 2008
Il libro dei regali straordinari, Iralangolo, Italy, 2011
Bien avant toi (a long time before you) *Texte Rascal, Didier jeunesse, Paris 2010
Thai version at Plan for Kids co., ltd, Thailand 2010
Korean version at Yeougogae 2011
Chinese version at Xi'an Rongxin 2012
Molto prima di te, Cult editore, Italy, 2012
Mon ami Kemushi (My friend Kemushi),*Texte Nathalie Dargent, Philippe Picquier, France october 2012
Mi amiga Kemushi, Kókinos, Spain 2013
Mój przyjaciel Kemushi, Tibum, Poland 2015
La pelote de soucis, *Texte Marine Gérald, Bayard, 2012, 2016, 2022
Du bout de mes doigts (Beyond my hand) *TexteJorge Luján, adaptation de Carl Norac, Syros, Paris october 2013
Nelle mie mani, Bohem Press, Italy, october 2013
Más allá de mi brazo, La brujita del papel, Argentina 2014
Movi la mano — I moved my hand (bilingual book) Groundwood books, Canada 2014
Trompa con trompita *Texte Jorge Luján, Capital Intelectual – aerolitos, 2016 Buenos Aires, Argentina
Naso Naso, Lapis Edizioni 2015, Italy
Trunk to trunklet, Enchanted lion, 2016 New York, USA
Trompa con trompita, Ediciones Castillo -Macmillan- México, 2018
Tres kuchulús sin historia Kókinos, Spain, 2017
Has anybody seen a story? Thames & Hudson, 2019
Trois koutchoulous sans histoire, À pas de loups, 2019
La reina de la noche / La reina de la nit *Texte Pep Molist, Ediciones Ekaré, Spain, 2019
Volcancito nevado *Texte Jorge Luján, Kókinos,  2021

Prices / exhibitions:
"Prix chrétien de Troyes" 1997 for the album "De l'autre côté de l'arbre" (Beyond the  tree)
Collective exhibition of Ilustrarte in 2005 (Portugal),  Sàrmede in 2005, 2007, 2013 (Italy) and Bologna book fair (Italy) in 1997, 2007 and 2012. "Mon lion" at Bib/Ibby 2007.
"Prix France Télévisions 2005″, mention album jeunesse" for the book "Mon lion" (My lion) publisher "autrement" (Paris)
"Price Premio Canaiem National Camera of Mexican Publishers", for « Tarde de invierno » ed. SM (Mexique)
"Prix International 2008 Fondation Espace Enfants", FEE Swiss (Michelle André) for "L'altro paolo" (the other paul) ed. Orecchio acerbo (Rome).
Collective exhibition "Dibujando el mundo", Museum of "Museo Franz Mayer" of Mexico, 2014
2014 Exhibition at the cultural "Clac center" in Sao Bernardo, Brasil.
2015 Collective exhibition "Illustrative Today" in Istanbul, Turkey and at Sharjah Exhibition for Children books illustrations.
2016 The book "Trunk to Trunklet" (Publisher:Enchanted lion) has been invited to participate at « The Original Art exhibit » of the "Society of illustrators" (New York)
Conferences:
—2009, Curso international de illustracion y diseño grafico, Albarracin (Spain)
—2012, Conférence, Centre Culturel maritime La corderie Royale, Rochefort (France)
—2014, Meeting at Médiathèque "L'@telier" de Sevran (France)
—2014, Meeting at the "Clac" cultural center of São Bernardo do Campo – São Paulo, (Brasil)
—2016, Meeting at Filbita 6° Festival de Literatura Infantil in Buenos Aires (Argentina)
— 2022, Conferencia en Hojas de Roble, Equipo Peonza, (Spain)
—2022, Conferencia en el Museu del Disseny de Barcelone, (Spain)
Theater/music : adaptations from some of my books :
—Theater: 2011, Compania:  Grupo Sobrevento (Brasil)
—Theater: Elfo teatro (Madrid)
—2010, Music : Naranja Dulce, Cancion de la bruja. (Argentina)
Videos from the book "Tarde de invierno"(winter afternoon):
—TV Asahi, Sekaiga Aishita Ehon, 2010 (Japan)
—You tube, video created by Jorge and Uriel Luján, music composed by Nicole Luján.
Radio
—RFI – Radio France Internationale: à l'émission de Yasmine Chouaki "En sol majeur" Le 6/ 05/ 2009.
—Radio Tinkuy in Buenos Aires: 30/11/2016 – (Beginning of the speak at 22:48.)
Revues/Livres
—"Lire l'album" by Sophie Van der Linden (L'atelier du poisson) soluble 2006
—"Crossover picture books" by Sandra L. Beckett. (Routledge)